Published 25/02/2019
Compassion will be holding its 2019 Good Farm Animal Welfare Awards in Brussels on Thursday 27th June.
We are delighted to welcome TV presenter, vet and author Emma Milne to host this year's Awards ceremony.
One of Compassion's high profile supporters, Emma is well known for her love of animals and said: "I'm hugely honoured to have been asked to host this year's Good Farm Animal Welfare Awards. All the time we use animals for food it's essential that we keep striving to improve their welfare, not just in life but in death too. The awards recognise those who embrace this."
The ceremony will take place in the majestic ballroom of the Concert Noble, an elegant venue commissioned by King Leopold II in 1873, which has played host to King Baudouin, Lord Mountbatten and the Dalai-Lama to name a few!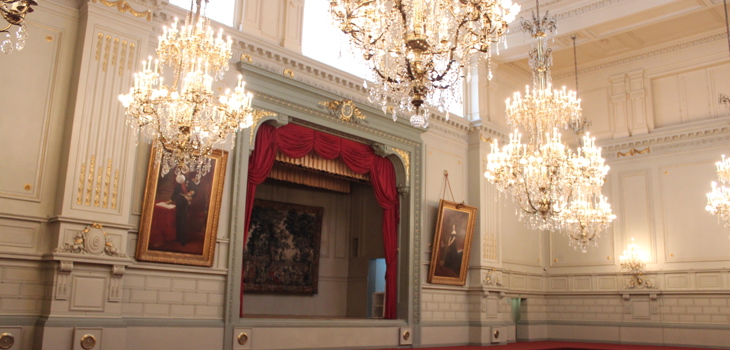 Awards Programme
Venue: Concert Noble, Rue d'Arlon 82, 1000 Bruxelles, Belgium
Date: Thursday 27th June 2019
Time: Registration opens at 13.30 for a prompt start at 14.00. The event will close at 19.30
This year we are excited to introduce the Good Calf Award, the Good Turkey Award and the Sustainable Food and Farming Award, in addition to our other main species awards for laying hens, broiler chickens, dairy cattle, pigs and rabbits.
In light of the recent wave in cage-free egg and broiler welfare commitments, Compassion has aligned its awards programme to meet the developing demands of the market and has adapted the awards criteria accordingly. Find out more about the awards here.
2019 also sees the return of our biennial Retailer Awards which stem from our Supermarket Survey results, and feature the Best Retailer Innovation and Marketing Awards which are selected by an expert panel. We will also be presenting our 2019 Cage Free Award at the ceremony, which is kindly supported by the Sir Peter O'Sullevan Charitable Trust. 
In addition this year, a number of industry experts will be present to speak on a range of trending food industry topics throughout the ceremony, and the event will provide excellent opportunities for networking with leading food companies.
Please join us as we celebrate yet another year of  amazing commitments that the food industry has made to advance farm animal welfare.
Please SAVE THE DATE in your diaries and contact Hayley.Roberts@ciwf.org.uk to register your interest in attending the Awards ceremony.
We look forward to seeing you there!
If you are interested in applying for an award, please contact foodbusiness@ciwf.org