The Business Benchmark on Farm Animal Welfare (BBFAW) publicly ranks the world's leading food companies on their farm animal welfare management, policy commitment, performance and disclosure based on publicly available information.
Since its inception in 2012, it has enabled investors, companies, NGOs and other stakeholders to understand corporate practice and performance on farm animal welfare, and has driven  improvements in the welfare of animals reared for food.
What is BBFAW?
The Benchmark allows leading food companies to be recognised for making farm animal welfare a critical business issue and for reporting and improving upon it year on year.
2020 Benchmark Results
The ninth annual Business Benchmark on Farm Animal Welfare was launched on 30 March 2021, confirming Cranswick, Marks & Spencer, Noble Foods and Waitrose as global leaders on farm animal welfare.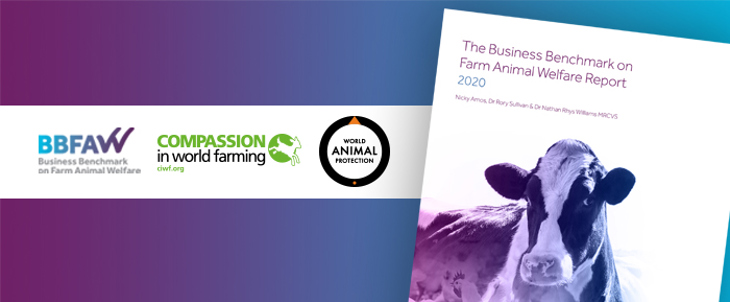 In 2020, 150 global food companies were assessed and, for the first time in the Benchmark's history, food producers and manufacturers were the highest scoring sub-sector on farm animal welfare with an overall average score of 38%, compared to scores of 36% for retailers and wholesalers, and 31% for restaurants and bars.
Read more about the latest Benchmark results here. 
Why is BBFAW useful for companies & investors?
BBFAW Supporting Partners
BBFAW is run by an independent secretariat and is supported by Compassion in World Farming and Four Paws.
(World Animal Protection was a supporting partner of BBFAW from 2012 until March 2021, and the programme was part-funded by investment company Coller Capital from 2014 to 2017.)
Find out more about the Business Benchmark on Farm Animal Welfare here.