What is BBFAW?
The Business Benchmark on Farm Animal Welfare (BBFAW) publicly ranks the world's leading food companies on their farm animal welfare management, policy commitment, performance and disclosure based on publicly available information.
Since its inception in 2012, it has enabled investors, companies, NGOs and other stakeholders to understand corporate practice and performance on farm animal welfare, and has driven  improvements in the welfare of animals reared for food.
The Benchmark allows leading food companies to be recognised for making farm animal welfare a critical business issue and for reporting and improving upon it year on year.
2021 Benchmark Results
The tenth annual Business Benchmark on Farm Animal Welfare was launched on 16 March 2022.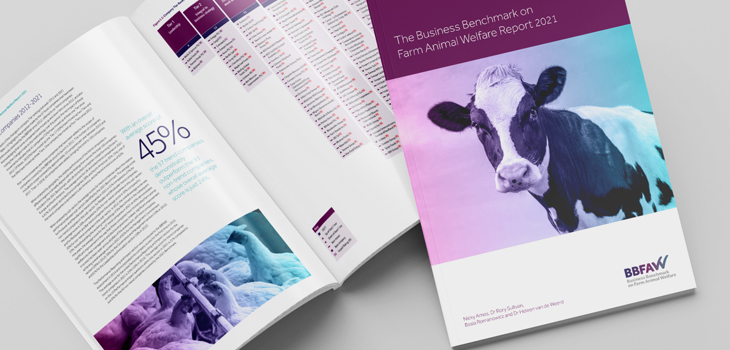 The top tier companies in 2021 include Marks and Spencer, Waitrose, Noble Foods and Premier Foods, which is impressive given the changes to the 2021 methodology which has placed further emphasis on companies' performance reporting and impact (45% of the total score compared to 35% in 2020).
The 2021 report shows that of the 150 global food companies evaluated 79% have published formal objectives and targets for farm animal welfare compared to just 26% of companies in 2012.
Read more about the latest Benchmark results here. 
Why is BBFAW useful for companies & investors?
BBFAW Supporting Partners
BBFAW is run by an independent secretariat and is supported by founding partner Compassion in World Farming and supporting partner Four Paws.
(World Animal Protection was a supporting partner of BBFAW from 2012 until March 2021, and the programme was part-funded by investment company Coller Capital from 2014 to 2017.)
Find out more about the Business Benchmark on Farm Animal Welfare here.