Julien Bréda, Food Business Manager, France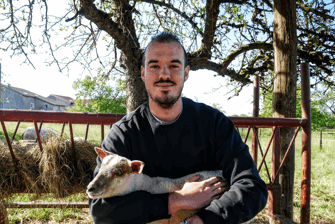 Passionate about ethology since childhood, Julien has devoted all his studies to this subject by completing a Bachelors' Degree in Biology with an Agricultural Engineer Diploma specialising in Sustainable Development.
After having successively worked in New Zealand on the behaviour of an endemic species of gecko and wild brown trout, followed by a stint in Sweden studying the behaviour of parasites on farmed salmon, Julien contributed as Engineer of Research into a national project led by INRA, with the aim of designing an innovative rabbit farming system that is more respectful of animal welfare.
Julien joined Compassion in March 2020 as Food Business Manager for France. Since then, he has worked with a wide range of French food companies to help them address the welfare of farm animals as a commercial issue, providing them with technical expertise, personalised support and networking.
Email: julien.breda@ciwf.fr