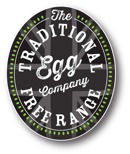 The Traditional Free Range Egg Company
Manufacturers
1

Awards
Good Egg Award
Year:
2016
Region:
United Kingdom
Category:
Whole eggs or shell eggs
Status: Current Policy
What's in a name? Well in the case of The Traditional Free Range Egg Company, pretty much everything. Owners Dan and Briony Wood are proud to produce and supply award-winning free range eggs, using the traditional flat deck method, and are committed to ensuring a sustainable future for likeminded family-run farms across the UK in a rapidly changing industry.
A combination of love, care, freedom and fresh air is what sets these exceptional quality eggs apart from the crowd and the Wood family understand that truly free range birds lay the very best of the bunch. Farming for over 36 years, The Traditional Free Range Egg Company has achieved critical acclaim with its Free Collection of Rambling Free hen eggs, Waddling Free duck eggs, Foraging Free quail eggs, Dabbling Free goose eggs and Naturally Free organic hen eggs, collecting a 3-star Great Taste award, two 2-star Great Taste awards and two 1-star Great Taste awards, as well as five Taste of the West Gold Awards, in 2016 alone.
Visit their website
Organisation search