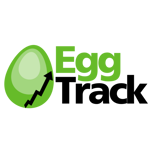 Compassion's Global EggTrack shows the progress companies are making towards their cage-free egg commitments across different regions (Global, US, Europe and Asia-Pacific).
EggTrack celebrates those commitments and encourages transparency in the market by encouraging companies to report year-on-year progress on their transition to cage-free eggs.
The online tracker and accompanying report continue to measure and encourage the transition to cage-free eggs, highlighting leaders in this space, motivating those who have fallen behind, and affirming the need for ongoing improvement and transparency in the market as companies work toward their common goal to be 100% cage free.
2022 Global EggTrack
Compassion's sixth annual EggTrack report shows that 175 (75.4%) of the 232 tracked companies are reporting progress against their cage-free commitments - an increase from 71% in 2021. Overall companies are reporting a 79.1% transition to cage-free.
More companies, including Pizza Express, Yum! Brands and Bloomin' Brands, made new global cage-free commitments this past year, and of the companies that reported global progress, their cage-free sourcing increased from 55.2% in 2021 to 63.1% in 2022.   
Of the 232 companies included in EggTrack, 103 operate globally, 52 operate only in North America or the US, 76 operate in Europe (including the UK), and for the first time, EggTrack has a dedicated section for the Asia-Pacific region which includes 2 companies that operate there exclusively.      
The overall number of companies reporting continues to increase, and progress disclosures are higher in quality and more comprehensive than ever before, with companies publishing regional breakdowns and egg category specifications.
Read more of this year's highlights below.