Apply for a Good Rabbit Award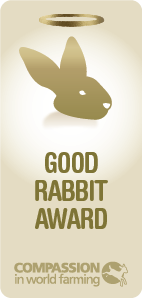 Why apply?
Our awards recognise and celebrate the achievements of market-leading food companies for making tangible improvements to the welfare of the animals reared for food in their supply chains.
We can help you identify welfare improvements through our expert technical advice and support, through our case studies which share best practice and we have a bank of resources to help you make the case for choosing higher welfare systems.
Winning an award enables you to: 
Demonstrate your leadership as an ethical organisation
Show that your policies are aligned with your brand values
Manage risk by having greater transparency and traceability in your supply chain
Increase consumer confidence in your brand and meet the growing demand for higher welfare products
If you would like to apply for a Good Rabbit Award, please contact us today!