Jeff Zhou, China Representative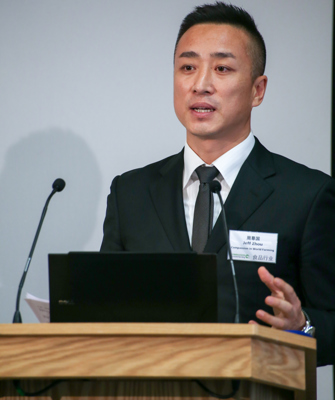 Jeff Zhou has represented Compassion in World Farming (CIWF) in China since 2008. Prior to working at Compassion Jeff was Chinese consultant for the RSPCA. 
In 2013 Jeff was promoted to Head of China and since April 2015 has become Compassion's Ambassador in China.
Since starting at Compassion in 2008, Jeff has organised several workshops and conferences on animal welfare, and has worked with a variety of organisations and individuals to promote animal welfare legislation. Jeff regularly gives educational lectures to undergraduates and producers to help raise public awareness about animal welfare, and actively seeks ways to work with governmental departments and research centres to promote welfare-friendly agricultural practices.
More recently Jeff successfully developed the connection between the 'International Cooperation Committee of Animal Welfare', (ICCAW) and Compassion in World Farming in China.  
E-mail: Jeff.Zhou@ciwf.org