Best Retailer Innovation Award
The Best Retailer Innovation Award is presented to the retailer that provides the best example(s) of work to improve farm animal welfare in their supply chain, as part of their Supermarket Survey submission.
The winners' submissions are assessed by a panel of judges and are each awarded points for specific parameters which include the severity of the welfare issue addressed, the potential scale of the impact, as well as the level of involvement from the retailer.
In 2015, Coop Switzerland was presented with the Best Retailer Innovation Award for developing a 'dual purpose' breed of chicken where the female birds are kept to produce eggs and the male birds are reared for meat instead of being culled as chicks (which is common practice in the industry due to their unsuitability for meat production). By doing so, they are tackling one of the most controversial issues in the laying hen industry.
Watch the video to find out more...
In 2013, the Best Retailer Innovation Award was presented to Kaufland in Germany for developing a higher welfare indoor rabbit production system.

Watch the video to find out more...
---
Share this page
Who we work with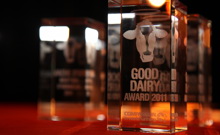 Apply for an award
Award Winner Search