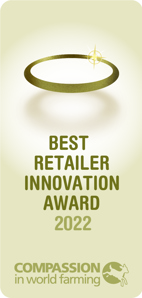 The Best Retailer Innovation Award is presented to the retailer that provides the best example of a successful project or innovation that has delivered measurable benefits to the lives of farm animals, as part of their Supermarket Survey submission.
The winners' submissions are assessed by a panel of judges and are each awarded points for specific parameters which include the severity of the welfare issue addressed, the potential scale of the impact of the innovation, as well as the level of involvement from the retailer.
2022 Best Retailer Innovation Award
The 2022 Best Retailer Innovation Award went to Waitrose & Partners for developing the first Qualitative Behavioural Assessment App to measure the emotional wellbeing of animals in the drive to continually improve their quality of life.
Working in conjunction with Scotland's Rural College team led by Professor Francoise Wemelsfelder, this pioneering app assesses 'how' animals behave (for example are they happy/active or flat/stressed), and is being rolled out across their entire supply chain.
Waitrose applies a 'Good Quality of Life' approach to the animals within its supply chain, measuring and improving key outcomes of good housing, good feeding, good health, appropriate behaviour, and positive mental state.  The first three areas have been easy to measure and understand for some time, but the last two have proven much more difficult to measure, interpret and assess. The QBA app has transformed this, and Waitrose can now monitor the mental wellbeing of all the animals in their supply chain. Once fully tested by Waitrose, the QBA App will be made accessible to other companies for the future benefit of all animals.
Waitrose's constant aspiration to be the best and to do what is right for animals and for their customers makes them true leaders in farm animal welfare and this year they also received the overall Best Retailer Award for achieving the highest score in the 2022 Supermarket Survey.
Jake Pickering, Senior Agriculture Manager, Waitrose said: "We are delighted to have once again received these awards, particularly to have held onto our status as a leading supermarket in animal welfare since 2004 and winner of the Best Retailer Award four consecutive times in a row."
"It takes enormous passion, commitment and hard work to achieve the high standards we've maintained for the past 30 years. This is unquestionably a direct result of the longstanding and close relationships we've built with our farmers over multiple decades and without their loyalty and dedication, these accolades would simply not be possible."
Watch the video to find out more.
Previous winners in Innovation 
In 2019, Casino in France received the Best Retailer Innovation Award for their leading work to introduce the very first method of production labelling scheme in France.
The label is based on over 200 animal welfare indicators (all verified by third-party auditing) that cover all phases of an animal's life: birth, rearing, transport and slaughter.
The scheme aims to help consumers identify higher welfare products more easily when they are out shopping and is being opened up to other companies to adopt across Europe.
Watch the video to find out more...
In 2017, Tesco was presented with the Best Retailer Innovation Award for developing a humane fish slaughter system for their sea bass and sea bream working collaboratively with their Turkish farmers and processors.
Watch the video to find out more...
In 2015, Coop Switzerland was presented with the Best Retailer Innovation Award for developing a 'dual purpose' breed of chicken where the female birds are kept to produce eggs and the male birds are reared for meat instead of being culled as chicks.
Watch the video to find out more...
In 2013, the Best Retailer Innovation Award was presented to Kaufland in Germany for developing a higher welfare indoor rabbit production system.

Watch the video to find out more...