Published 18/06/2012
Compassion's Good Dairy Award, launched in 2011, recognises companies that are using or committing to using higher welfare systems for dairy cows and calves.
Through our Good Dairy Award, we aim to ensure that more dairy cows have access to good quality pasture. Winning companies must also demonstrate a commitment to monitoring and improving key welfare issues such as lameness, culling rate, mastitis and cow condition. They should also be rearing their calves in high welfare systems where they are raised in social groups, with adequate bedding and fed a diet with an appropriate amount of fibre.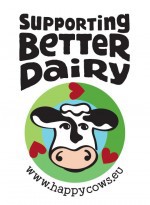 As part of its programme to improve dairy cow welfare, Compassion has teamed up with one of its Good Dairy Award winners – world famous ice cream producers Ben and Jerry's – and the World Society for the Protection of Animals (WSPA) on a new Supporting Better Dairy campaign with the aim of improving the welfare of Europe's 23 million dairy cows.
Most of the EU's 27 countries don't have specific rules for the welfare of dairy cows, as they do for pigs and hens, so our aim is to secure a new EU Dairy Cow Welfare Directive.
We want to see a guarantee of minimum welfare standards by introducing rules for good housing, good feeding, good health and appropriate behaviour (i.e. allowing them to act naturally and roam freely).
Not only will this proposed legislation protect the welfare of dairy cows across Europe, it will give confidence to consumers that the milk and dairy products they purchase comes from cows that have a guaranteed minimum welfare standard whilst also creating a level playing field for farmers throughout the EU.
If you would like to help us achieve our goal of securing European-wide dairy legislation click here to sign the petition/pledge your support.
If your organisation promotes higher welfare dairy systems for cows and/or calves you may wish to apply for a Good Dairy Award. Click here to find out more
Together we can make a real difference in favour of better welfare for dairy cows across Europe in the future.