Published 19/07/2012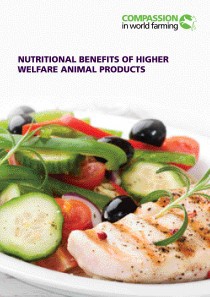 Many consumers admit to purchasing higher-welfare animal products because they believe they are healthier. If this perception is true, choosing higher-welfare animal products over intensively-produced ones could be expected to have a beneficial effect on consumer health, allowing food companies to market higher-welfare animal products on the basis of nutritional advantage.
Conventional production systems typically involve permanent indoor housing and the use of livestock breeds selected for high productivity. The former may restrict opportunities for exercise and behavioural expression, whilst the latter is associated with a number of production-related conditions that may cause serious animal health and welfare problems.
Animal products produced in systems that offer greater opportunities for exercise and behavioural expression (e.g. pasture-based, free-range and organic) and/or from less productive breeds (e.g. slower-growing meat chickens) may have nutritional advantages as a result of, for example, the consumption of fresh forage and greater physical activity altering the quality of the meat, milk and eggs produced by these animals.
Compassion conducted a literature review to examine the evidence for a range of nutritional benefits of higher-welfare animal products. The studies selected compared extensive production systems (free-range, organic or other pasture-based system) with intensive production systems (cage, indoor or feedlot system). For chicken, studies also included comparing slower-growing breeds with conventional fast-growing breeds. Fat content, fat composition, levels of antioxidants such as vitamin E and beta-carotene, and the amount of iron were also included in the analysis.
Extensive farming systems are considered to have the potential for higher animal welfare than intensive systems. And higher welfare animal products are shown to have a number of nutritional benefits over intensively-reared products, for example:
Lower fat content in pasture-reared beef, free-range and organic chicken and chicken of slower-growing breeds, and wild salmon and trout.
Higher levels of omega-3 fatty acids and a more favourable (lower) ratio of omega6 to omega-3 fatty acids in wild salmon and trout, pasture-reared lamb and beef, chicken meat from slow-growing layer-type strains and some free-range eggs.