Published 07/08/2012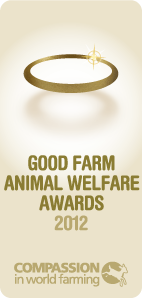 The Good Farm Animal Welfare Awards will be held in London on 27th September 2012 and we are delighted to announce that cook, food writer and broadcaster Valentine Warner will be hosting the event.
Launched in 2007, the Good Farm Animal welfare Awards recognise food companies that are committed to implementing substantial policy changes that result in positive impacts for farm animals. The Awards comprise the Good Egg Award, Good Chicken Award, Good Dairy Award and new for 2012, the Good Pig Award which encourages higher welfare systems for both sows and meat pigs.
Winning an award can yield significant business benefits – from improving supply chain compliance to enhancing consumer perception and increasing brand loyalty.
An impressive 265 million hens, chickens, pigs, dairy cows and calves are now set to benefit each year as a result of our award winners' policies and we look forward to rewarding our new winners for 2012.
The Good Farm Animal Welfare Awards will take place at the Honourable Artillery Company in London on Thursday 27th September.