Published 28/09/2012
The increasing importance of farm animal welfare to big businesses was ably demonstrated last night at Compassion's 6th annual Good Farm Animal Welfare Awards.
Held at the Honourable Artillery Company in London and hosted by cook, food writer and broadcaster, Valentine Warner, the awards recognise and award food companies that are committed to implementing substantial policy changes that result in positive impacts for farm animals.
Valentine said: "As a cook, I'm passionate about the quality of the ingredients I use and to me that means using high welfare products wherever possible. With more than 900 million farm animals reared each year for food in the UK it's important for all of us to try to ensure that they have lived as good a quality of life as possible. It's heartening to see in these economically challenging times so many companies making such a tremendous commitment in this area."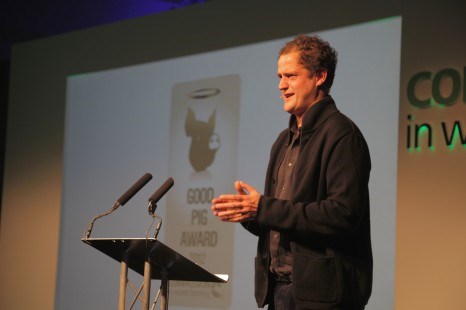 Over 50 awards were presented across five categories: Compassion's existing Good Egg Award, Good Chicken Award and Good Dairy Award; our newly launched Good Pig Award and, new for this year, the 'Leadership and Innovation in Retail' category.
Good Egg Awards were presented to Premier Foods, KFC and MacDonald Hotels & Resorts in recognition of their commitment to using cage-free eggs. Jamie Oliver was also a big winner, receiving a Good Chicken Award for the development of his range of higher welfare chicken products with Moy Park, while Waitrose, M&S, and Prêt A Manger all won Good Pig Awards.
Smaller companies such as retail newcomers Good Food Nation (Good Egg and Good Dairy winners), The Hummingbird Bakery (Good Egg winner) and family run Woodland's Jersey Beef, who received a Good Calf Commendation, all picked up awards.
The inaugural 'Leadership and Innovation in Retail' category, which challenged supermarkets to present a case study demonstrating their most pioneering work to improve farm animal welfare over the past 12 months, was presented to Sainsbury's for its Pig Concept Farm, which is trialling an indoor free-farrowing system based on the PigSAFE design.
Steve McIvor, Director of Food Business, Compassion in World Farming, said: "The awards are a vital tool that allows us to engage and converse with food companies under the banner of recognition and celebration which is very successful in helping us forge strong relationships. We would like to congratulate all of our winners for the huge difference they are making to the lives of thousands of farm animals. We need more businesses to follow their excellent example and keep the momentum going across the industry".
In the six years since the first Good Farm Animal Welfare Awards over 270 million hens, chickens, pigs, dairy cows and calves are now set to benefit each year as a result of award winners' policies.
Good Egg Award Winners:
Burger King UK
Fiona Cairns Ltd.
Good Food Nation
Harrison Catering Services
HSBC HQ and Regions
KFC
MacDonald Hotels & Resorts
One Good Egg
Pfizer UK Staff Restaurants
Premier Foods
Riverford
Sodexo UK offices
Soho Coffee Company
Talkington Bates
The Co-operative Group staff restaurants
the happy egg co.
The Hummingbird Bakery
The Pudding Compartment
Thomas Franks
Good Chicken Award Winners:
Apricot Catering
Chipotle Mexican Grill
Eversfield Organic
Jamie Oliver
Pride Catering
Riverford
Sutton Hoo
Good Dairy Award Winners:
Acorn Dairy
Kimbers' Farm Shop
Good Food Nation
Riverford
Sanclêr
Tossed
Good Calf Commendation Winner:
Woodlands Jersey Beef
Good Pig Award Winners:
Anna's Happy Trotters / LKL Farming
Blythburgh Free Range Pork
Chipotle Mexican Grill
Crazy Bear Group
Dalehead (BQP)
Dent Ltd.
Eversfield Organic
Laverstoke Park Farm
M&S
Packington Free Range
Prêt a Manger
Riverford
The Well Hung Meat Company
Virgin Trains
Waitrose
Good Sow Commendation Winner:
Midland Pig Producers
Leadership and Innovation in Retail Winner: 
Sainsbury's