Published 14/01/2013
In 2001, the EU agreed the Pigs Directive (2008/120/EC), laying down minimum standards for the protection of pigs. One of the outcomes was the partial ban on the use of sow stalls for all pig holdings from 1st January 2013. The partial sow stall ban makes it illegal to confine sows for their entire pregnancy, and requires sows to be group housed from 4 weeks after mating or earlier. The Directive also requires that sows have permanent access to rooting materials and outlines floor and space requirements.
In total, more than 13 million sows are set to have their lives greatly improved by the implementation of this landmark EU legislation.
However, as the sow stall ban came into force, an estimated 40 per cent of EU sows are still housed in these now illegal systems. This represents the non-compliance of a number of EU Member States including: Belgium, Cyprus, Denmark, Finland, France, Germany, Greece, Ireland, Italy, Poland, Portugal, Slovenia, Spain and The Netherlands, despite having had 11 years to change their systems.
In the UK, a complete ban on the use of sow stalls has been in place since 1999 and the EU legislation has applied to all newly built, rebuilt or newly commissioned buildings since 2003.
To ensure no non-compliant pig meat enters their supply chains, and to reduce the associated reputational risks, many EU food retailers have pledged to source only from compliant countries. Leading EU food businesses are, however, making commitments well beyond legislative requirements for sows, by eliminating stalls from their housing systems altogether – using free farrowing systems (so no use of the farrowing crate, which is not mentioned in the legislation), and by providing bedding and manipulable material throughout the sow's life. These leading companies are also committing to improve the lives of the meat pig by eliminating the use of tail docking, teeth clipping or grinding, and castration practices, and by providing pigs with bedding and manipulable material throughout their lives.
Such companies include our Good Pig Award winners including Waitrose, M&S, Virgin Trains, Prêt a Manger and Chipotle Mexican Grill.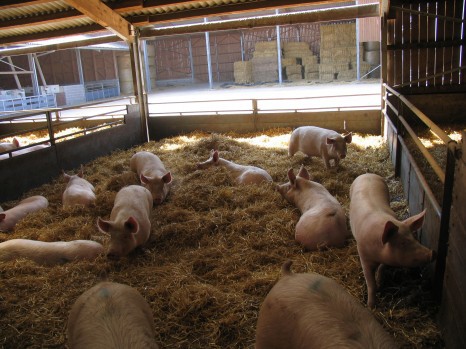 In order to comply with the new legislation, producers may need to convert existing sow stall sheds, re-commission old buildings to satisfy the legal requirements, or invest in new purpose-built sow housing facilities.
To ensure that any housing system delivers good welfare outcomes for sows, Compassion has produced a technical booklet, outlining examples of well designed and managed group housing systems. It discusses the elements required for good housing, particularly around mixing of sows, and looks at the main systems in commercial use, adding practical solutions and tips for best practice.
The four key legislative points of the new COUNCIL DIRECTIVE 2008/120/EC for sows are: as of 1 January 2013, all holdings must comply with the following:
Part of the unobstructed floor area available to sows and gilts must be of continuous solid flooring (Article 3, 2a)
Sow stalls will be prohibited from four weeks after service to one week before the expected time of farrowing (Article 3, 4)
Sows and gilts must have permanent access to manipulable material (Article 3, 5)
In order to satisfy hunger, all dry pregnant sows and gilts must be provided with bulky or high fibre food (Article 3,7)
Click here to read the 'Indoor Housing systems for dry sows – practical options' technical booklet