Published 06/03/2014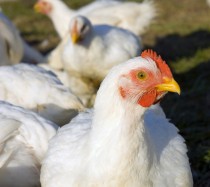 Compassion has withdrawn The Co-operative Food's Good Chicken Award following a decision by the retailer to increase the stocking density of its broiler chickens, from 15 to 17 birds per square metre.
While the stocking density increase from 30kg to 34kg per square metre meets legal requirements and is not as high as the standard British chicken sold by most other retailers, it goes above the maximum limit set for Compassion's Good Chicken Award.
The Good Chicken Award publically recognises companies committing to provide higher welfare standards for meat chickens throughout their supply chain, and a reduced stocking density (max 30kg per square metre) is just one of the criteria to be met. The Co-operative Food signed up to this agreement in perpetuity in 2010 for its fresh and frozen chicken meat.
Tracey Jones, Director of Food Business, Compassion in World Farming, said: "We're disappointed that The Co-operative has taken this step.  We have had a long and productive relationship with them and they have traditionally been a leader on the animal welfare agenda in the food industry. As well as the Good Chicken Award, they have also received a Good Egg Award, a Good Dairy Award and Supermarket Awards for introducing higher welfare standards in their supply chain.  However, we cannot ignore that the company is now reneging on the criteria for our Good Chicken Award and feel that sadly we have no choice but to withdraw it."
The Co-operative say they have increased stocking density for economic reasons, so they can continue to provide their customers with British chicken at competitive prices.
Indeed these are difficult times for consumers faced with food cost rises and The Co-operative recently responded with their announcement to "remove price as a barrier" throughout 2014, which was kicked off with a three-day flash sale on milk, eggs and bread in January. But driving down costs through further intensification of farming systems is not the way forward and the animals are paying the price.
Increasing the number of birds by just two for every square metre of floor space in the shed may not sound like such a big deal. However, at 30kg per square metre (15 birds per square metre), the birds use all the floor space available, allowing them to move around the house more freely and express more of their natural behaviours, improving both their physical and mental wellbeing. Eroding this space provision, is a slippery slope to ever increasing stocking densities and a move away from the higher welfare provision, expected by consumers of The Co-operative.
Tracey adds: "Approximately 900 million chickens are reared for meat in the UK each year and a staggering 86 million[1] are wasted – that's almost 10%. It's crazy then to think we cannot afford to provide them with a little more space and give them a little more freedom of movement to benefit their short lives."
She continues: "Consumers  do empathise with the welfare of broiler chickens when their rearing conditions are publicised, but when faced with increasing food prices and '3 for £10' offers this does not often convert into purchasing behaviour in favour of higher welfare options. Chicken meat has unfortunately become so much of a commodity it's difficult to connect it with the living animal and the cheap price has eroded our ethical value of its life. It's time to reconnect the public with the broiler chicken and to increase the demand for sustainable higher welfare chicken meat from food companies. By paying a little more, by eating less and wasting less, meat can be produced to higher welfare standards, which is affordable for all."
Compassion values the long term relationship they have enjoyed with The Co-operative and whilst regretting this backward step with regard to the Good Chicken Award we aim to continue our positive dialogue with the company in the future.
Tracey concludes: "We hope The Co-operative will reconsider its decision and be able to supply its customers with higher welfare chicken meat across its ranges soon. It's sad to see such an ethical retailer committed to animal welfare take this decision.
"Manufacturers, retailers and consumers all need to pull together to make the short life of the chickens we eat better. Providing for their basic needs, wasting less, and valuing their lives are just the beginning."