Published 15/04/2014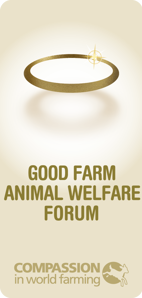 Compassion's Food Business team is pleased to announce its first ever Good Farm Animal Welfare Forum, which will take place in London on the afternoon of Thursday 5th June 2014 from 1pm-7pm.
The Forum will bring together key players from the food industry – manufacturers, retailers, foodservice and producers – to address the challenges and opportunities posed by farm animal welfare.
Participants will hear from a number of Compassion's partners including Sainsbury's, Chipotle, Philadelphia and the SUBWAY® chain. They will talk about their achievements to date and the lessons they have learnt in addressing farm animal welfare issues.
Plenary and breakout sessions will include:
Sainsbury's exploring the consumer perspective on farm animal welfare
BNP Paribas Investment Partners explaining why investors are taking notice of your company's animal welfare performance
Sharing tools to develop your company's approach to farm animal welfare
Focusing on why and how to measure welfare outcomes across key species
There will be opportunities for networking with drinks and light refreshments available prior to and during the Forum. Wine and canapés will be served from 5.30pm, and the event will close at 7.00pm.
Please note that participant spaces for the forum are limited and priority will be given to those working for or with major food companies.
To reserve your place at the forum or for more information please click here.