Published 25/09/2014
Compassion was delighted to present its first Good Pig Production Awards at an event in Westminster, London yesterday (24th September). The event brought together 26 delegates from the pig industry in China – who are currently visiting the UK on a study tour of British pig farms as part of an educational programme – and European experts to discuss China and EU collaboration on pig welfare.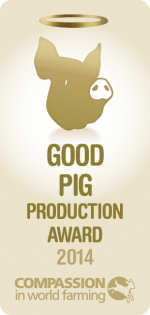 Over the past three years, Compassion has been working in partnership with the government-backed organisation – the International Cooperation Committee of Animal Welfare (ICCAW) – in China to help bring higher welfare practices to the nation that is home to half the world's pigs.
We have worked together on the criteria for the Good Pig Production Award – China's first award to demonstrate the country is taking animal welfare, food safety and the sustainable development of livestock production more seriously. A total of 62 applications were submitted, showing the level in interest for meeting higher welfare standards in China, with 13 successful winners, indicating the level of difficulty in attaining an award.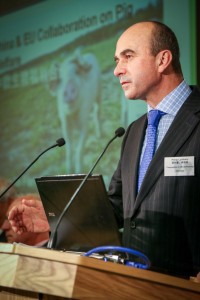 Compassion's CEO, Philip Lymbery, who visited China in late 2013, commented on the changing attitudes of the Chinese people: "The connection between how farm animals are kept and the quality and safety of the resulting food is starting to be recognised in China.  It provides us with a real foot in the door to help promote less intensive farming in this, the most populous country on earth."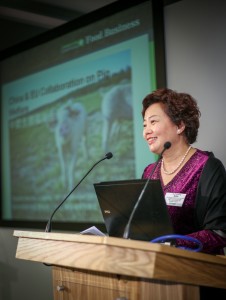 Ms Xi, founder and Executive President of ICCAW said: "Compassion is a key partner for ICCAW in China as they are the leading international farm animal welfare organisation with good local and international knowledge. They have been instrumental in helping us raise the awareness of farm animal welfare in China by sharing knowledge and providing expertise and science-based knowledge to encourage our local producers to adopt higher welfare standards."
"The timing for improving welfare across China is right as risk factors in the supply chain are being increasingly recognised by more and more people, and the importance of higher welfare farming is growing rapidly as people make the connection between the good care of animals and high quality food."
"We have started our programme with the Good Pig Production Awards and I congratulate the 13 winners for 2014. These farms are leaders in the field that others can learn from."
"We look forward to introducing awards for other species in China in the future and will continue our collaboration with Compassion to help drive this forwards."
Ms Xi Chunling from ICCAW was accompanied to the London event by Deputy Director, Mr Wan and Mr Zhou, the Vice President of the China Association for the Promotion of International Agricultural Cooperation (CAPIAC), an influential body that supports the joint ICCAW/Compassion project.
 External speakers included:
Niel Wuyts who presented the benefits of IMPROVAC as a solution to removing the need to castrate pigs and the opportunities for using the vaccination;
Ian Campbell from Unitron UK Ltd who presented the challenges and solutions for the successful group housing of pregnant sows;
Emma Baxter from Scotland's Rural College who highlighted the important features of a successful free-farrowing system for sows;
Mark Hayward from Dingley Dell Pork who spoke about the challenges and opportunities for higher welfare pork production in the future;
Kate Parkes from the RSPCA who explained how they are assuring higher welfare standards through its audits and Freedom Food programme.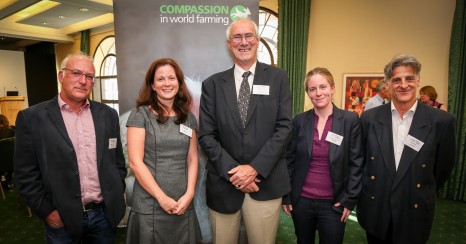 A 'Farm to Fork' panel discussion opened up the floor to the Chinese delegates who were able to ask questions of an expert panel and gain further insight on how best to introduce higher welfare practices on their farms in China.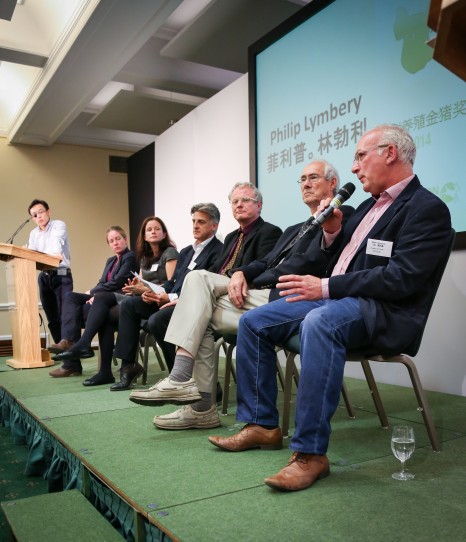 The event focused on how to drive farm animal welfare forwards – through practical and innovative solutions – and how this can ultimately make for a successful business.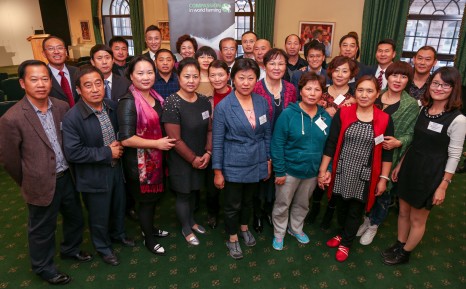 The day culminated in the presentation of the prestigious Good Pig Production Awards for 2014. Eight of the 13 pioneering Chinese producers who were present in London on the day proudly took to the stage to collect their awards.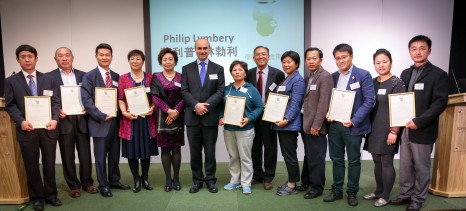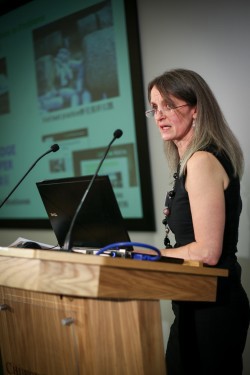 Dr Tracey Jones, Compassion's Director of Food Business, said: "It was a touching moment to watch our award winners proudly stand and collect their certificates from our CEO and Ms Xi. Their faces said it all – this was a momentous occasion – and their peers were delighted for them. At dinner last night, Ms Xi explained just how momentous the event had been. This was the very first time Chinese pig producers had ever been recognised and valued for their achievements."
"It has been a pleasure working with ICCAW on developing and implementing the Good Pig Production Award for Chinese producers, and for hosting the producer study tour. The participants are so keen to learn and implement steps to improve animal welfare.
We estimate more than 750,000 pigs are set to benefit from our producers commitments and practices …. That's definitely something to celebrate!"
Good Pig Production Awards will also be presented to the remaining winners at the '2014 China Animal Welfare Forum' in Beijing on 11th October.
Click here to find out more about the Good Pig Production Award winners
The Good Pig Production Award recognises Chinese producers that are making significant commitments to improving the welfare of pigs by meeting five basic requirements which focus on: group housing of sows in the gestation period, providing pigs with a suitable environment (including temperature control and hygiene), as well as meeting several stipulated food safety requirements.
The awards can be based on a current policy or a 5-year commitment to achieve the relevant criteria.  The awards are scored from 1 star (basic requirements listed above met) to 5 stars, depending on the number of the following additional welfare criteria that are met: no tail docking, no teeth clipping, no confinement of sows throughout life (including farrowing crates), and the provision of maniuplable material and bedding throughout life.
Click here for a full list of welfare criteria for the Good Pig Production Award