Published 22/10/2014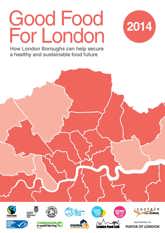 The 2014 Good Food for London Report was published on 16th October by London Food Link, part of the charity Sustain.
London Food Link is backed by an alliance of organisations, including Compassion, that are working to promote healthy and sustainable food across London.
33 London Boroughs were assessed for their involvement in the following nine good food schemes and what they have achieved through their participation:
Sixteen London boroughs have received one of Compassion's Good Egg Awards. The Greater London Authority, and the London 2012 Olympic and Paralympic Games are amongst other winners in and around the capital. The Good Egg Award recognises companies that make it their policy to use only cage-free (barn, free-range or organic) eggs across 100% of their operations.
Going the extra mile, the London Borough of Islington has also been awarded the Good Chicken Award in recognition of its policy to serve only higher welfare fresh chicken across all its catering outlets.
The report shows that support from London's Councils is increasing across the board for these food initiatives, with Islington coming top for the fourth consecutive year.
Ross Compton, the author of the report, said, "Increased engagement from many boroughs has meant that despite the cuts, many more councils have found ways to continue to offer residents better food and support a fairer food system".
Click here to view the online interactive league table and download the report