Published 27/11/2014
Every year, the Danish pig industry comes together - farmers and their stockmen, industry executives and politicians - to discuss issues in pig farming, with a heavy emphasis on research and practical advice.
This year, the Herning Congress in Denmark was attended by over 2,000 people and Vicky Bond, Compassion's EU Food Business Manager, was invited to talk about higher welfare pig production.
As part of her presentation, Vicky recognised Den Go'e Gris and Antonious who were recently awarded a Good Sow Commendation by Compassion for their commitment to higher welfare standards for sows.
Vicky said 'I was delighted to be asked to take part in this year's Congress. It was a fantastic opportunity to talk to people in the Danish pig industry where farming is typically intensive. 
'It gave me the opportunity to cover a number of welfare issues, such as the importance of  manipulable materials and bedding for meat pigs and sows; the welfare issues concerning  the use of farrowing crates and sow stalls; and the issue of tail docking and castration which is widely practiced throughout Denmark.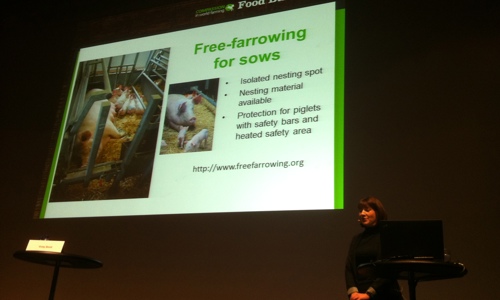 'I was very encouraged by how well my presentation was received with several people talking to me afterwards about the need to move to more welfare friendly systems in future.'
Click here to find out more about our Good Pig Awards.