Published 06/11/2014
Compassion was delighted to present leading French retailer Monoprix with a Good Dairy Commendation at its first European Good Farm Animal Welfare Forum in Paris today.
Monoprix was the first French retailer to receive a Good Egg Commendation last year for its commitment to using only cage-free, own-brand eggs. The retailer has now taken a further step by committing to better welfare standards for dairy cows.
The trophy – also a first for a French retailer - was awarded for the outstanding work and commitment of Monoprix and its milk suppliers to ensure the optimal welfare for the dairy cows that produce Monoprix's UHT milk. This includes giving them access to pasture during the summer months.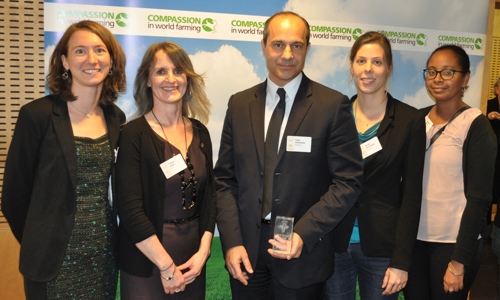 Compassion was also delighted to recognise leading Italian chicken producer Valverde with a Good Chicken Award at the Forum for its commitment to improve the welfare standards of broiler chickens. This is a hugely significant commitment in Italy which is set to benefit over 1.5 million broilers each year.