Published 08/12/2014
Director of Food Business at Compassion, Tracey Jones, was recognised at the British Poultry Council Annual Awards held at the House of Commons on 2 December 2014.
The awards celebrate outstanding achievements and recognise years of distinguished service and support for the industry.
Tracey received a Special Merit Award for her collaboration with the duck industry, to develop a series of welfare outcome measures, which could in time be incorporated into the Duck Assurance Scheme.
British Poultry Council (BPC) Chairman, John Reed, presented the awards with Anne McIntosh MP, Chairman of the Environment Food and Rural Affairs (EFRA) Select Committee and highlighted the unique contributions of each winner to the poultry industry. 
Mr Reed said: "These awards continue to be a great platform to showcase the real talent that lies at the heart of the industry. This year is no exception and I have been amazed at the positive contribution all the winners have made in order to receive these great accolades."
Tracey said: "I feel very humble accepting this Special Merit Award from the British Poultry Council, mainly because this is still a work in progress and others have also been involved in the work.
It has been a pleasure working with the Duck Assurance Scheme and duck industry over the last 10 years. They represent a sector which is committed to the continuous improvement and delivery of high quality, higher welfare ducks."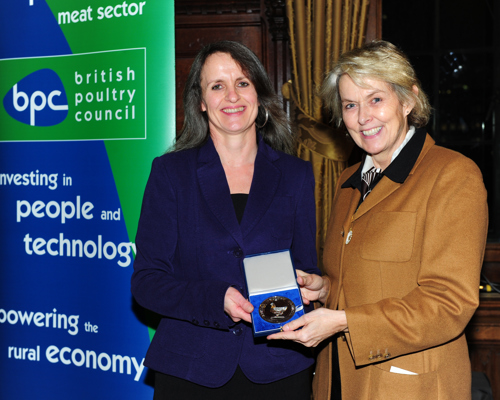 Welfare Outcome Measures for Ducks
The outcome measures chosen cover a range of physical conditions - eye, nostril, feather cleanliness, feather cover, and potentially walking ability. Tracey is also working on incorporating behavioural signals to begin to assess another important aspect of welfare, that of behavioural expression.
Click here to find out more about the other 2014 BPC Award winners.