Published 12/02/2015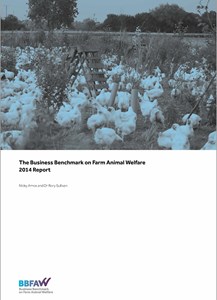 The 3rd Business Benchmark on Farm Animal Welfare (BBFAW) report has been launched today at City Hall in London.
Now in its third year, the Benchmark provides an annual review of how the world's leading food companies are reporting their approach to farm animal welfare.
The launch kicked off with a welcome address from Jeremy Coller, Chief Investment Officer of Coller Capital Limited, one of the UK's biggest private equity groups and now a partner of the BBFAW programme.
Nicky Amos, BBFAW Programme Director, and Dr Rory Sullivan, BBFAW Expert Advisor presented the key report findings.
This was followed by a panel discussion with Abigail Herron, Head of Responsible Investment Engagement, Aviva Investors, Tom Lind, Director of Agriculture at Tesco Plc., Dr Géraldine Kutas, Public and Government Affairs in the European Union, BRF,  Steve McIvor, Director of International Programmes, World Animal Protection and Dr Rory Sullivan, BBFAW Expert Advisor.
In total, 80 companies (10 more than last year) were assessed in 2014 according to their published information and ranked from Tier 1 (indicating companies are taking a leadership position), down to Tier 6 (where animal welfare does not appear to be on the business agenda).
The companies represent three primary food business sectors and include listed and non-listed companies (private companies, partnerships and co-operatives):
Food Retailers and Wholesalers
Restaurants and Bars (a category that includes many food service providers)
Food Producers and Manufacturers
The report is compiled in collaboration with leading farm animal welfare organisations, Compassion in World Farming and World Animal Protection and Global Investor, Coller Capital. 
Jeremy Coller, founder of Coller Capital, explained the growing importance of this issue among major investors.  He said: "Farm animal investment risks and returns must be managed if we want healthy food on our plates and healthy returns from our portfolios – as recent food scares, scandals and tightening EU regulation have all underlined. This report will help investors understand which food companies are taking farm animal welfare seriously. It must surely be a concern that over half of companies currently languish in the bottom two tiers of the Benchmark."
Key results:
84% of the benchmarked companies acknowledge farm animal welfare as a business issue, with 64% of them having published farm animal welfare policies. 
Marks & Spencer and Coop Group (Switzerland) have retained their Tier 1 position for the second year running, joined by Waitrose this year which climbs two places from Tier 3.
Other major food companies like Burger King, Mars and Müller are among 21 companies languishing at the bottom of the league table.
15 out of the 70 companies benchmarked in 2013 have now moved up at least one Tier in the league table.
With 24 companies in the top three tiers, there is a growing number of leadership companies in the Benchmark spread across industry sectors and countries.
In the Restaurant and Bars sector, there is a clear divergence between companies that are public facing and those that are business-to-business, due to their proximity and dialogue with consumers.
The 18 UK companies perform relatively well, representing 9 of the 24 companies in the top 3 tiers.
Food producers in emerging markets are similar to, if not better than, their peers in the developed markets.
With 40 of the 80 companies appearing in the lowest two tiers of the Benchmark, it is evident that farm animal welfare remains a relatively immature business issue.
Key welfare issues (i.e. close confinement and long distance live transportation) remain under-reported, with the majority of companies having no clearly stated position on their commitments in relation to these issues. Fish welfare (introduced to the 2014 Benchmark scope) is also universally under-reported.
 Click here to visit the BBFAW website.
Compassion's involvement in the BBFAW is kindly supported by the Esmée Fairbairn Foundation.