Published 03/08/2015
Compassion's Ambassador in China, Jeff Zhou, was invited to talk at the 3rd China Students' Animal Protection Camp which took place in Suzhou city, Jiangsu Province from 19-25 July.
This was the second time Jeff was invited along to speak at the event and the topic of his presentation this year was on Farm Animal Welfare Conditions.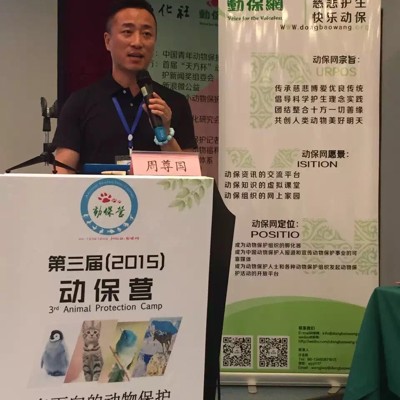 The China Students' Animal Protection Camp is participated by 100 to 200 students. They are selected from universities that are members of the Students Animal Protection Network, which covers over 200 universities in China.
The camp often lasts for several days and includes 20 lectures from different fields, covering a wide range of topics including animal protection and animal welfare, world resource conservation, anti-cruelty projects, sustainable development and vegetarianism movements.
Several debates are organised at the end of each camp, which gives the students more opportunity to express their understandings and to network with their peers.
Jeff said: "It's always very encouraging to see so many students getting more and more enthusiastic about the topic of animal protection and the animal welfare movement; they always come up with good questions after the talk. This kind of event is a great way to influence the young generation which can have a greater impact for farm animal welfare in the future."