Published 19/11/2015
Compassion was delighted to present its second Good Pig Production Awards at an event in Westminster, London yesterday (18th November) in association with the International Cooperation Committee of Animal Welfare (ICCAW).
Seven representatives of this year's 14 deserving winners from China were in London to be presented with their awards and to hear from experts in pig welfare and food industry leaders, including Sainsbury's and BQP.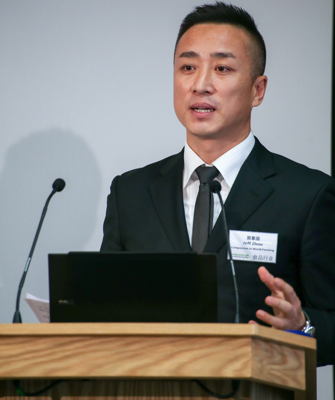 The Good Pig Production Award recognises Chinese producers that are making significant commitments to improving the welfare of pigs, with a focus on:
group housing of sows
free-farrowing
no tail docking
no teeth clipping
and providing pigs with appropriate bedding and manipulable material throughout life.
The world's largest producer of pigs
China rears an astounding 726 million pigs a year - more than half the world's pig population and five times more than that produced in the US. This level seems set to increase with the inevitable population growth in China.
The Good Pig Production Award aims to stop the use of sow stalls and to promote the development of higher welfare systems and practices for both sows and meat pigs in a country where production is set to increase to meet demand.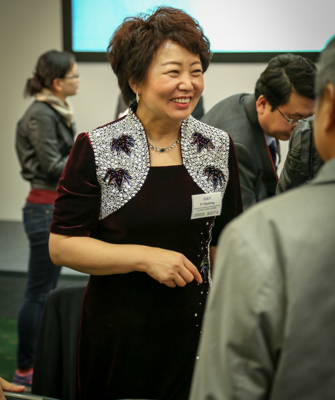 Ms Xi Chunling, Executive President of ICCAW commented: "Before launching the Good Pig Production Award, not many people in China were aware of the Five Freedoms of animal welfare. Today industry experts, farm owners and even some consumers know more about pig welfare requirements such as no sow stalls, no teeth-clipping, no tail docking, and the provision of appropriate bedding materials, all because of the Award. It is a remarkable change and demonstrates significant progress in China, the world's largest producer of pigs. Moreover, it has resulted in a very positive effect on the global environment and sustainable agricultural development."
Animal welfare and Food Industry leaders
External speakers at the event included:
Vicky Scott and Kate Moore, Directors, DP Morgan - who presented on Addressing aspects of Pig Welfare in Commercial Practice with a focus on group housing of sows and maintaining sow condition and fertility
Sandra Edwards, Professor of Agriculture at Newcastle University - whose presentation focussed on free farrowing systems for sows
Howard Revell, Production Manager at BQP - who highlighted the successes and challenges of keeping tails on pigs
Kate Parkes, Senior Scientific Officer from the RSPCA - who talked about higher animal welfare standards: auditing and marketing for consumer confidence and purchasing support
Sue Lockhart, Head of Agriculture at Sainsbury's - who described Sainsbury's commitment to sourcing and marketing higher welfare products
Mark Hayward from Dingley Dell Pork - who spoke about securing markets for and marketing higher welfare products
The afternoon session included a 'Farm to Fork' Panel Discussion which opened up the floor to the Chinese delegates to ask questions of the expert speakers to gain further insight on how best to introduce high welfare practices on their farms and how to market their higher welfare products in China.

Our Awards recognise higher welfare practices
The event closed with the presentation of the Good Pig Production Awards where this year's pioneering winners were recognised for their achievements.

Tracey Jones, Compassion's Director of Food Business, said: "It has been a pleasure to host the Good Pig Production Awards yet again this year. The participants are so keen to learn and implement steps to improve their welfare standards back home. In just the second year of running the Awards, one of our first winners has already moved up the Star rating, and companies wishing to build and operate new 5 Star accommodation for their pigs are beginning to engage with us. We never thought we could gain so much traction in such a short timeframe - it truly is remarkable.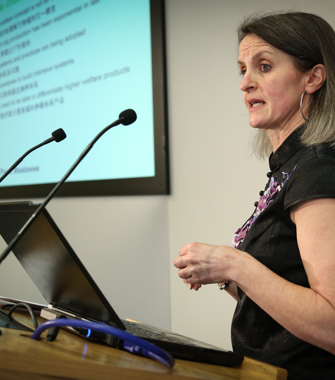 "It's a huge job but the scale on which some of these companies work means that it just one of them adopts and promotes higher welfare pig production it has an enormous impact.
"Much of the success so far in China is due to our strong collaboration with ICCAW and we look forward to continuing to work with them to encourage more large scale commercial producers to rear pigs to higher welfare standards and improve the lives of yet more pigs in China.
"To date, nearly 1 million pigs are set to benefit each year through our Good Pig Production Award winners' policies."
Other quotes from the day....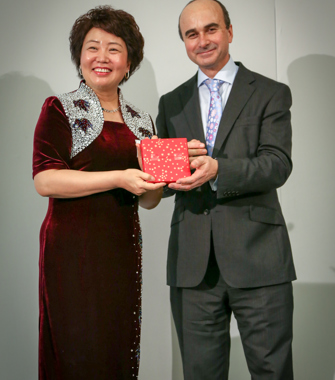 "Higher welfare can benefit businesses and communities as well as food quality, food safety and the environment." Philip Lymbery, CEO, Compassion
"There has been a mini industrial revolution stimulated by animal welfare in China – this award has changed our thinking, our production and more important the lives of so many animals." Ms Xi Chunling, Executive President, ICCAW
"74% of consumers list animal welfare among the top factors which make a food brand ethical." (Mintel Research, July 2015) Sue Lockhart, Sainsbury's
"We need to embrace animal welfare in a way that adds financial value to what we do - higher welfare quality products provide big opportunities." Mark Hayward, Dingley Dell Pork
"Customers are looking for multi-faceted quality – higher welfare, sustainable food from systems that support its workers" Howard Revell, BQP
"By allowing pigs to express behaviour we will see production benefits." Sandra Edwards, Newcastle University
Good Pig Production Awards will be presented to the winners who were unable to come to London at an event in Beijing on 20-21 November, hosted by ICCAW: 2015 China Animal Welfare Forum on Quality & Safety of Meat and Poultry Products.
You can find out more about all of our Good Pig Production Award winners here.