Published 03/11/2015
European Food Business Manager, Hélène O'Donnell, recently joined famous French biscuit manufacturer St Michel at a press conference in Paris for their announcement to exclusively use free-range eggs in their products. They are the first in the French industrial biscuit manufacturing sector to do so. The press conference was hosted by Hélène Darroze, who was named World's Best Female Chef in 2015.
300,000 hens will benefit each year from St Michel's free-range policy, which Compassion recognised with a Good Egg Award at the Milan Expo in June 2015.
In free-range systems, hens are able to express natural behaviours such as flapping, scratching and dust-bathing – all of which they are unable to perform in cages.
For Romain Leycuras, St Michel's CSR Manager, this free-range policy fits into a wider social responsibility commitment initiated by the brand several years ago: "After switching to 100% French wheat, eliminating palm oil from our products and obtaining Origine France Garantie certification, it was only natural to move to free-range eggs across all our lines."
"The hen has also been our emblem since 1905, so it was all the more natural to consider its welfare," he added.
For Hélène Darroze, whose star ingredient is the egg, free-range farming also means quality eggs: "Consumers now regard the choice of ingredients and the quality of products as essential. St Michel's new policy is therefore really in line with the times. I've always believed that know-how is important and must be combined with the use of good products." she said.
St Michel's commitment is all the more significant as it relates to eggs used as ingredients, which are not covered by regulatory labelling according to production method (shell eggs being coded 0 to 3 depending on whether they are from organic, free-range, barn or caged systems).
Hélène O'Donnell emphasised how important it is for food companies not only to commit to higher animal welfare standards, but also to communicate on their progressive policies. She explained: "When a food industry leader announces their commitment to animal welfare, it encourages the rest of the sector to follow their example."
"That's how the mayonnaise sector has evolved," she added. "When leading brands Hellmann's and Sainsbury's switched to free-range eggs in the UK, a whole series of brands in France (including Lesieur and Amora, both Good Egg Award winners) and elsewhere followed suit. By communicating on their free-range egg policy, St Michel has shown real leadership in the industrial biscuit manufacturing sector both in France and internationally."
Similarly, within a few days of McDonald's announcing that all of their restaurants in the US and Canada will phase out the use of caged eggs by 2025, one of America's main egg producers wrote on their Facebook page that cage-free production is "the future of the industry", and many other companies are following suit.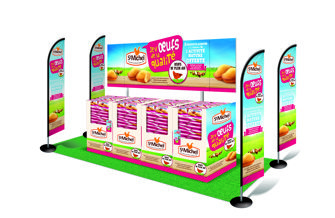 Compassion congratulates St Michel not only on their commitment but also on their marketing activities. The brand has organised an in-store promotion with major French retailers Leclerc, Carrefour, Auchan, Cora, Géant Casino and Intemarché. St Michel has also launched its welovepoules online campaign, with a striking message: If we can care for the fate of pet animals, why can't we care for that of the animals reared for our food?