Published 16/03/2016
The 2016 Salon International de l'Agriculture, Europe's largest agricultural trade show held in Paris, saw the launch of an innovative tool with the potential to improve the welfare of millions of broiler chickens.
TIBENA broiler, a smartphone app developed by French cooperative Terrena with technical input from Compassion in World Farming, is designed to help assess the welfare performance of broiler farms from a set of animal-based measures.
"TIBENA broiler has real potential to foster much-needed welfare improvements in the broiler production sector, and it was exciting to witness the significant amount of interest generated by the app at the Salon de l'Agriculture," commented European Food Business Manager Hélène O'Donnell, who represented Compassion on the TIBENA broiler working group.
An evolving tool, TIBENA broiler was created as part of Terrena's continuous improvement strategy for its Nouvelle Agriculture® brand. It will allow Terrena's producers to evaluate their welfare baseline objectively, benchmark their results, identify areas for improvement, and assess the impact of new technical solutions.
The creation of TIBENA broiler follows on from the success of TIBENA pig, which launched in 2015 and has received very positive feedback from Terrena's pig farmers.
"TIBENA has demonstrated that animal welfare can be turned from a constraint into an advantage," said Léa Michel, Terrena's Animal Welfare Project Manager and TIBENA Project Leader.
"TIBENA's animal welfare indicators clearly translate into improved economic performance," she added. "For example, when animals are given the ability to express natural behaviours, they are calmer, display fewer injuries, feed better and have better reproduction rates."
TIBENA broiler includes a total of 37 and 34 indicators for indoor and outdoor production respectively. While these encompass environmental and health factors, they place strong emphasis on animal behaviour – both positive such as dust-bathing and negative such as feather-pecking.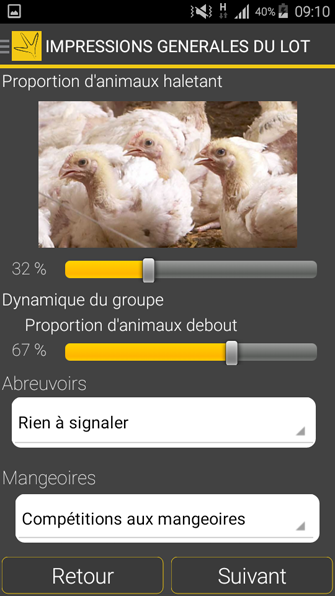 The assessment takes just one hour per flock to complete and the app immediately provides a summary report as well as generic technical advice. More detailed guidance becomes available once the results have been downloaded and analysed by Terrena centrally.
After TIBENA pig and TIBENA broiler, Terrena is now developing apps for rabbits as well as for beef and dairy cattle.
The complete set of apps, which will be translated into various languages, including English, is accessible to other companies. "Much of TIBENA's value lies in its benchmarking potential," explained Cécile Guillon-Kroon, R&D Project Leader for Terrena. "We are therefore hoping that other European companies will want to take it up."
Demo versions of TIBENA pig and TIBENA broiler will shortly be available from the Google app store.