Published 13/04/2016
On 11 April, French retailer Monoprix, a subsidiary of the Casino group, announced their decision to withdraw caged whole eggs entirely and permanently from all of their stores.
This decision supplements their 2013 commitment to go free-range on all of their own-brand shell eggs, for which they received a Good Egg Commendation from Compassion.
In 2015, Monoprix also eliminated caged eggs from their pâtes d'Alsace pasta range and the mayonnaise sold under their Monoprix Gourmet brand.
According to Monoprix's in-store advertising and social media, the retailer has "broken up with eggs from caged hens."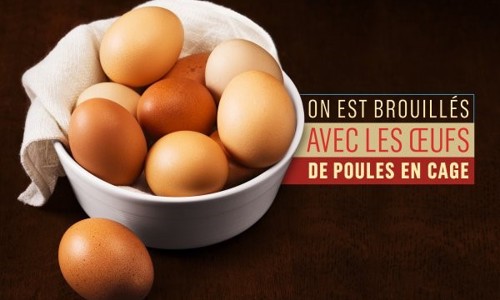 ALL of the hens producing shell eggs sold in Monoprix stores will now benefit from improved living conditions, in systems where they can express their natural behaviours.
"We commend Monoprix for their cage-free commitments. It demonstrates the success of the continuous improvement journey that they started putting in place several years ago," commented European Food Business Manager, Hélène O'Donnell.
"We are also delighted that Monoprix are publicising their commitment which highlights the importance of cage-free egg production. We hope this will encourage the rest of the French retail sector to follow their example," she added.
In Germany and the Netherlands, ALL retailers have now banned shell eggs from caged systems in their stores. Many leading European retailers such as Carrefour and Delhaize in Belgium, Coop Italia in Italy and Sainsbury's, Waitrose and Marks and Spencer in the UK have done the same.
In France, only Colruyt (approximately 60 stores) and Schiever - Atac, Maximarché and Bi1 (over 160 stores) have completely withdrawn the sale of caged eggs from their stores. Both retailers were awarded Compassion's Good Egg Commendation in 2015 for their commitment to cage-free egg production.
The writing is on the wall for caged egg production: it has no place in humane, 21st century farming systems. Compassion strongly encourages the rest of the French and European retail sector to follow Monoprix's example by ending the sale of caged eggs.