Published 29/06/2016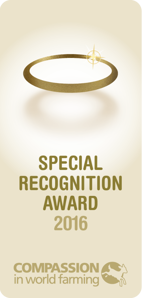 Compassion was delighted to present Whole Foods Market in conjunction with Global Animal Partnership (GAP) the US with a Special Recognition Award at its annual awards ceremony in Berlin on 28 June.
Special Recognition Awards are given to companies that demonstrate outstanding innovation, commitment or achievement in the field of farm animal welfare.
The award was presented for their joint commitment to using slower-growing breeds and better living conditions for chickens, which is a major step forward for chicken welfare in North America.
In a market-leading move GAP has committed to replace 100 per cent of fast-growing chicken breeds with slower-growing breeds over the next eight years for all levels of its 5-Step® Rating Program in the USA and for all levels to meet or exceed the criteria of the Good Chicken Award.
Whole Foods Market has committed to implementing the new chicken standard across all its fresh and frozen chicken by 2024. This move is the first major, specific, time-bound commitment to address the negative effects of fast growth on chicken welfare in the USA where both supply and demand for slower-growing breeds are currently severely lacking.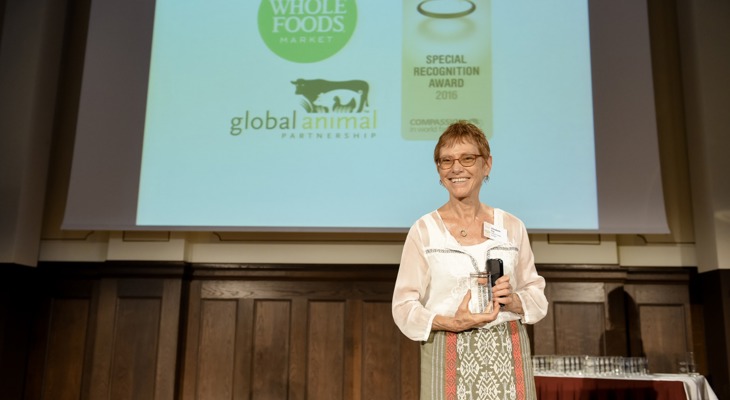 By taking this one action the lives of 245 million birds will lead better lives in the future.
Theo Weening, Global meat buyer for Whole Foods Market said: "Since 2011, Whole Foods Market has used Global Animal Partnership's 5-Step® Rating system to provide our customers with standards and information around how the animal was raised for the meat they buy. Supporting this additional commitment to improve chicken welfare is a step forward in continuing to provide our customers with products of the highest quality and flavor."
Leah Garces, Executive Director for Compassion US said: "The importance of Whole Foods Market and GAP's commitment to improve broiler welfare in the US cannot be overstated. The work the they are doing will not only directly benefit the chickens in their supply chain and those certified by GAP, but also sends a clear signal to the rest of the US poultry industry that this is the future of broiler production."