Published 23/11/2016
With the recent announcements from Compass Group and Aramark in the States pledging to use slower growing chickens from higher welfare systems by 2024, could we be witnessing the start of the next wave of welfare commitments in broiler production, as we have seen in the egg industry this year?
2016 marked a truly remarkable year for laying hen welfare with a huge wave of commitments from leading food companies to move to cage-free eggs. We hope a similar domino effect will occur in the chicken meat industry now that these leading catering companies have made their intentions public about improving the welfare of broilers in the US.
We certainly hope that their UK counterparts will see fit to follow suit and start another wave of higher welfare company commitments across Europe.

These latest commitments follow Whole Foods Market who earlier this year became the first major food business in the US to commit to slower-growing breeds and better living conditions for chickens by 2024. Their work and that of Global Animal Partnership to improve animal welfare through their 5-Step®Animal Welfare Rating Programme, was recognised with a Special Recognition Award at Compassion's Good Farm Animal Welfare Awards in June.
Through our annual Good Farm Animal Welfare Awards, Compassion recognises companies for their higher welfare standards for broilers through its Good Chicken Award which addresses stocking density, growth rates and the need for environmental enrichment.
To date over 280 million chickens are set to benefit from the higher welfare policies and practices of our 85 Good Chicken Award winners.
One of this year's winners, Jumbo Supermarkten in the Netherlands, received a Good Chicken Award this year for developing their own higher welfare 'New Standard Chicken'. This standard assures that 100 per cent of all the fresh chicken sold in all its stores comes from slower growing breeds, reared in higher welfare systems with a stocking density of 25kg/m².
So there are already signs that that positive change in broiler welfare is starting to happen in Europe and we know there are other companies working towards similar change.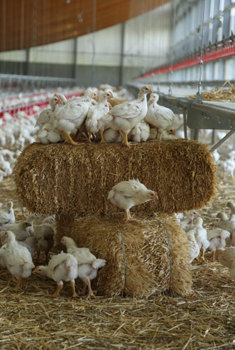 Good housing for broilers
For producers that are considering developing new housing for broilers to meet these company commitments and the growing demand for higher welfare chicken, the Windstreek system which has been developed in the Netherlands is an excellent example. It incorporates multiple features for improved welfare with strong sustainability elements. Watch the video here
Reducing antibiotic use
By operating a higher welfare system with good stockmanship you also have the potential to reduce your reliance on antibiotics.  Italian Co-operative, Valverde, has successfully reared its 'Gran Selezione' chickens that are clearly labelled as 'raised without antibiotics'.  This has been achieved not through consciously refusing to use antibiotics but due entirely to using robust breeds and developing higher welfare systems with stricter rules than legislation, regarding stocking density, growth rate and environmental enrichment.
Much needs to be done to ensure the transition to higher welfare is successful:
long and often complex supply chains need to be brought on board
changes need to be made to housing
new breeding stock needs to be laid down
If companies are to meet their 2024 commitments they need to start working on transitioning now, and for clarity and transparency, report year on year progress.
When leading brands make animal welfare commitments they inspire others to follow suit and act as a catalyst for change.  We look forward to seeing more companies taking similar steps towards positive change for broilers as have been taken by Compass Group and Aramark in the US.
If you are interested in applying for a Good Chicken Award please contact us or read our resources on broiler welfare here, which includes a presentation on the science that is driving change in broiler welfare.