Published 22/09/2017
Unilever's largest brand Knorr has reinforced its commitment to achieve 100% higher welfare standards for chicken, pork and beef used in its soups, sauces, and bouillon products globally by 2024.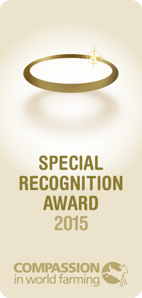 Working with Compassion, Knorr first announced its ambition to push for higher animal welfare standards above industry practice at a global level in 2015, for which they received a 'Special Recognition Award'. This commitment meant that a staggering 102 million chickens were set to benefit each year. Since then the brand has been working closely with Compassion to start transforming its supply chain.
Knorr's higher welfare standards are based on Compassion's 'better' model for pigs, broiler chickens and beef cattle.  Knorr will implement these standards through equivalent local third party certification schemes, or where these don't exist, use 3rd party auditors to ensure that suppliers meet the detailed welfare requirements.
Broiler commitments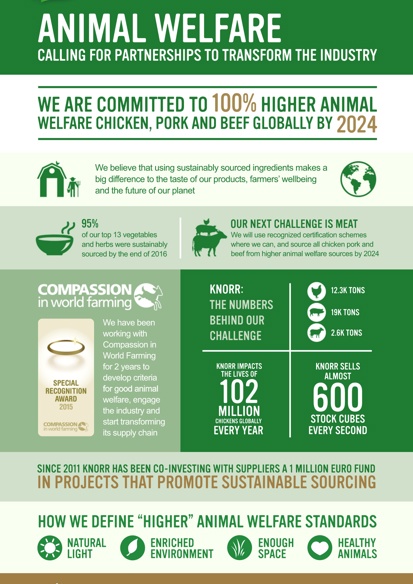 Building on this work, Unilever has also become the first manufacturer to sign up to further specific broiler welfare standards across its North American and European operations by 2024.
The additional welfare criteria are primarily around breed change and humane slaughter. Find out more about their regional targets here.
Knorr is responsible for around 80% of the volume of chicken used by parent company Unilever and these commitments form part of their global sustainable sourcing strategy.
This commitment means that 100% of the meat chicken in Unilever's North American and European supply will meet the new higher welfare criteria by 2024.
In North America alone this will positively impact 50 million of the 102 million chickens in Unilever's global supply chain.
Dr Tracey Jones, Director of Food Business at Compassion in World Farming said: "The Knorr team have worked relentlessly over the last four or more years to evaluate the standards within their global supply chain, secure global commitments within the business to higher welfare production and to search for supply and certification schemes that meet their welfare criteria. These commitments are phenomenal given they are for ingredients in products – where their power in the supply chain is limited.
Unilever's move to commit to both the US and EU asks for broiler welfare improvement, which incorporates additional criteria to Knorr's original commitment, mainly around slaughter, transparency and clear target dates, is testament to their ambition and their ability to drive sustainable food production forwards. We hope that their leadership will encourage other companies to make similar welfare commitments which will ultimately make higher welfare sourcing solutions easier for all in the future."