Published 22/06/2018
Compassion hosted its latest Good Farm Animal Welfare Awards ceremony in Paris last night, where market leading food companies from across the globe were celebrated for their commitment to higher welfare production.
Compassion's CEO Philip Lymbery kicked off proceedings talking about the future of food and the importance of eating less and better meat, eggs and dairy products for the good of the animals, people and the planet.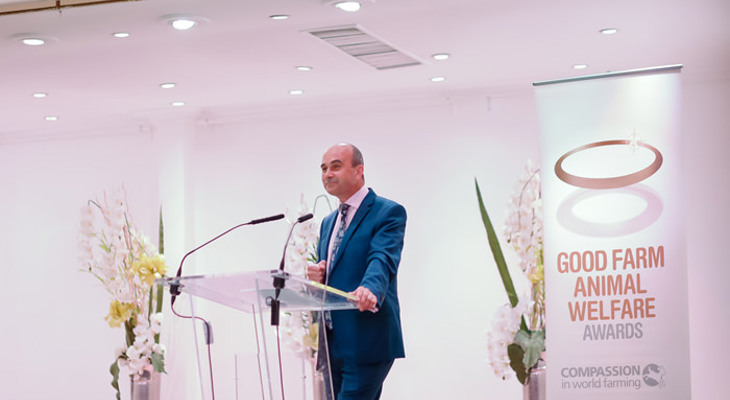 He also launched two new awards for 2019: The Friendly Food Award for companies taking steps to reduce the number of animals in their supply chain, and the Farming and Nature Award which recognises farmers and businesses that combine food production with protection of wildlife and the environment.
The ceremony was hosted by European journalist and radio and TV presenter Alex Taylor who said: "As a former vegetarian (now flexitarian!) - and having hosted many conferences on the subject, I'm convinced we are at a turning point in the general public's attitude towards animal welfare.
I'm delighted to be hosting this year's ceremony and to have the opportunity to celebrate those companies that are doing so much, in very practical ways, to advance a cause which is, above all - simply humane. I truly believe their work is invaluable."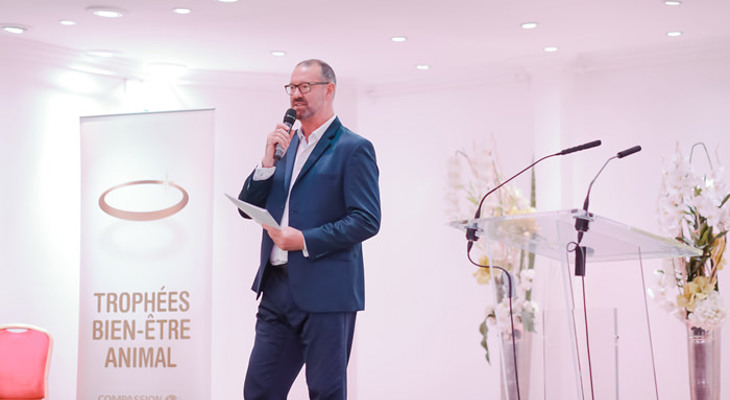 A total of 59 award winners were recognised, including our main awards for hens, broilers, dairy cattle, pigs and rabbits, our Chinese Producer Awards, our 2018 Marketing and Innovation Awards and this year's prestigious Special Recognition Award.
Our 2018 Award winners alone are set to improve the lives of over 200 million animals each year.
Overall there were 14 Good Egg Awards, three Good Chicken Awards, two Good Dairy Commendations, one Good Calf Commendation, four Good Rabbit Commendations and three Good Pig Awards. Find out more about this year's winners here.
Compassion has continued to align its awards programme to meet the developing demands of the market. This year, the conditions for awarding the Good Egg Award were strengthened to support the recent wave of 2025 corporate commitments to cage-free egg production. The Good Chicken Award was also adapted in line with the criteria for the Better Chicken Commitment, which many companies in the US and EU have recently signed up to.
Special Recognition Award
This year, UK-based Winterbotham Darby was awarded Compassion's Special Recognition Award which is kindly supported by the Sir Peter O'Sullevan Charitable Trust.
Since 2014, Winterbotham Darby has been working closely with Compassion to promote higher welfare practices in the pig sector across continental Europe. They have developed a unique Gold, Silver, Bronze animal welfare certification scheme for their continental meat suppliers which is driving welfare improvements and helping to secure cage-free commitments across their European supply chain.
Their high and fruitful engagement with their suppliers has led to some outstanding outcomes, particularly in countries like Italy and Spain - not known for their higher welfare credentials – but where their suppliers are leading the way on free-farrowing systems in their countries.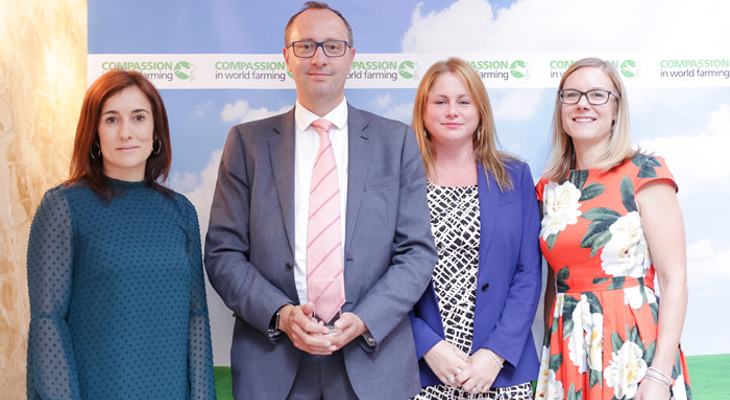 David Houghton, Technical Director at Winterbotham Darby explained how important animal welfare is to them: "There has never been a more important time for animal welfare within the food industry due to increasing pressure and demands from the market. Animal welfare is not just significant from an animal health or ethical perspective, it plays such an important role in product quality, sustainability of farming and indeed human health. At Winterbotham Darby we recognise the importance of animal welfare and that is why it is a key strategic part of our organisation be it today or in the future."
Best Marketing Award 2018
Dutch Manufacturer Kipster picked up not only a Good Egg Award but this year's Best Marketing Award too.  Both accolades were awarded for having developed the 'world's first carbon neutral egg'.
Their innovative farm has been designed to address animal welfare as well as sustainability concerns. Through their various marketing activities, which include a quirky new sustainable egg box and visitors centre, and their strong partnership with Lidl, their products have been selling out in-store as consumers support the notion of buying not only animal friendly but sustainable products too. Watch the video here.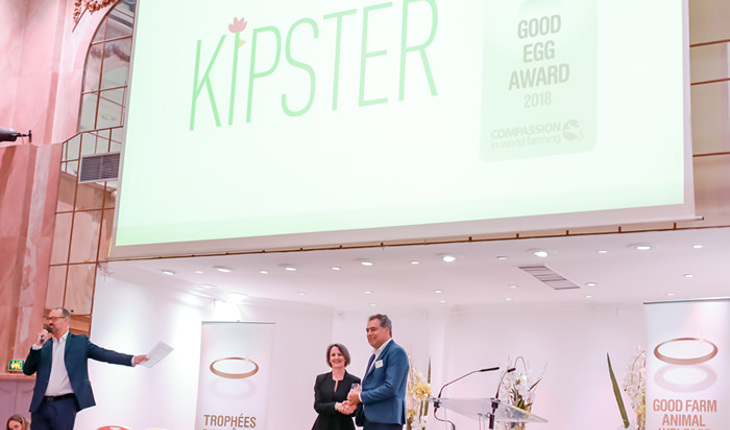 Oliver Wegloop, Managing Partner at Kipster explained the thinking behind their work: "We want to show the world that animal welfare is definitely a realistic option in combination with environmental friendliness as well as financial feasibility. To this end, we developed a new system where sustainability and animal care do not compete. Our eggs are carbon neutral, we reduced fine particle emissions to almost zero and we have no land use for feed, because we feed our birds with a diet made from leftovers."
Best Innovation Award 2018
The Best Innovation Award went to Germany's SELEGGT for their work in helping to address the issue of killing male chicks in the egg industry – a practice which affects over 5 billion chicks every year.  SELEGGT has developed an endocrinological method for identifying the sex of hatching eggs before the embryo develops the capacity to feel pain. The male (and unfertilised) eggs can be humanely rejected early on and then turned into high-quality feed for farm animals. Watch the video here.
SELEGGT Managing Director, Dr Ludger Breloh explains the impact they hope to make: "The scientific work to develop a solution for the issue of male chick culling has been ten years in the making but we have now developed a prototype adaptable to very large and very small hatcheries and plan to be working in a commercial hatchery in 2019."
Tracey Jones, Director of Food Business at Compassion said: "There has undoubtedly been a sea-change in attitudes to farm animal welfare within the last decade. Driven by consumer demand, investor considerations and market forces, more and more companies are making the move towards to cage-free production and taking steps to tangibly improve the lives of millions of farm animals across the globe.
We encourage companies to invest in the best and develop systems that are not only fit for purpose to deliver a good quality of life, but are fit for the future too, by meeting the growing demand for more ethical and sustainable food. I'd like to congratulate all this year's winners and look forward to continuing to help them fulfil their higher welfare commitments and pledges. It's great to see industry leaders across the globe pushing the boundaries and really driving change."
China Awards
29 producers from China were recognised for the great work they are doing to improve the lives of pigs, hens and broiler chickens, through our China Production Awards.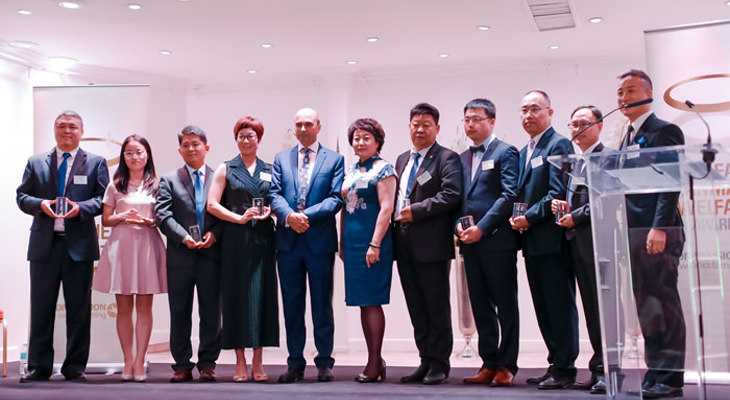 This year there were 17 Good Pig Production Award winners, 7 Good Chicken Production Award winners and 5 Good Egg Production Award winners in China.
More than 180 million animals are set to benefit from ALL of this year's Chinese winners' commitments and practices.
Ms Xi Chunling (Secretary General and Vice President of China Association for the Promotion of International Agriculture Cooperation (CAPIAC) and the 1st President of ICCAW) spoke at the start of the ceremony about recent developments in China.
She said: "Farm animal welfare is closely related to food production and consumption so it's increasingly important to ensure that higher welfare standards are integrated within the international livestock standards in China. This will not only increase consumer confidence in food safety, but also increase the economic benefits and social influence of these leading food companies.'
Find out more about this year's Chinese winners here.