Published 19/11/2018
On 24th October, the 2nd World Conference on Farm Animal Welfare, co-sponsored by the United Nations Food and Agriculture Organisation and the China Association for the Promotion of International Agricultural Cooperation, was held in Beijing.
The theme of the conference was "Good Welfare, Good Quality, and Good Future" and was attended by 150 domestic and foreign companies, including Shougang Group, McDonald's, KFC, Unilever, Nestle, and IKEA, all coming together to promote animal welfare, exchange experiences and share knowledge.
Ma You Xiang, Chief Director of Animal Husbandry at the Ministry of Agriculture and Rural Affairs, made a keynote speech on "The Future Trend of Animal Husbandry in China",highlighting China as the world's largest livestock and poultry farming industry, with an output value of ¥3 Tn (£338Bn).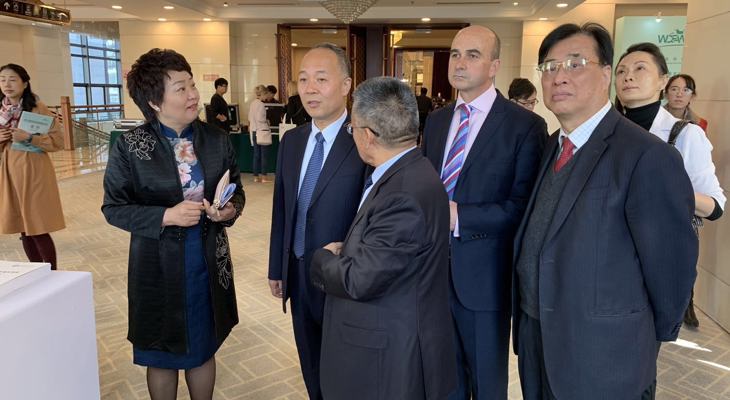 Compassion's CEO, Philip Lymbery, spoke about 'Farm Animal Welfare and Sustainability' and the importance of not viewing animal welfare in isolation, but that it is intrinsically linked with many other important topics including food safety, food supply and sustainable development.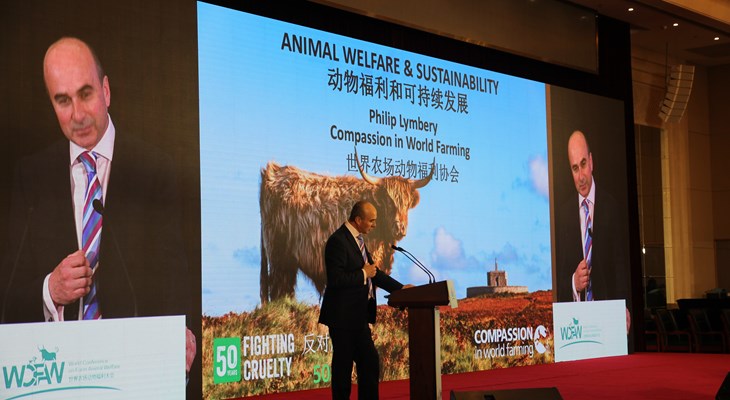 Compassion has witnessed tremendous progress in animal welfare in the last five years since the Good Farm Animal Welfare Awards were launched in China, recognising the good practices companies are making for a more sustainable future.
In total, over 272 million animals are now set to lead better lives from our Chinese winners' commitments and practices since the Awards began in 2014.
Compassion hosts Poultry Welfare Seminar
Compassion was invited to host a Poultry Welfare Seminar at the conference, which included guest speakers from: Queen's University of Belfast, Queensland University, Vencomatic Group, Ningxia Xiaoming Agriculture & Animal Husbandry Co., Ltd, Guangdong Ocean University, and The Guardian newspaper.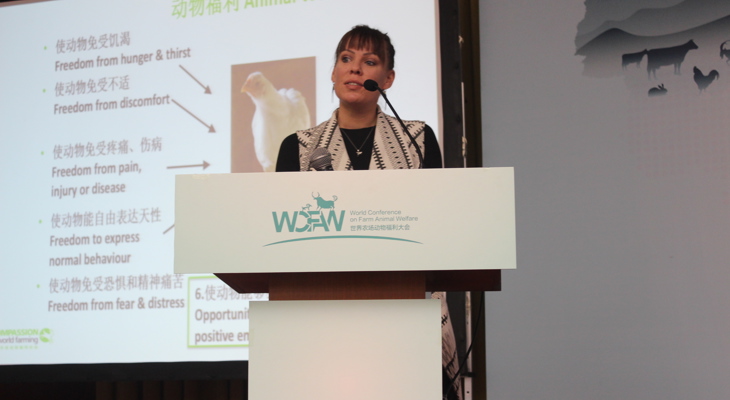 Key welfare issues, such as natural light and enrichment provision for broilers, and improving the welfare of poultry during transport and slaughter were all discussed, as well as European consumer perspectives.
Jiang Feng, Purchasing Manager of Unilever Asia Pacific, said: "In 2015, Unilever started working with Compassion in World Farming to establish an international standard that is recognised and applied globally. We hope that more and more companies who have the same values can join us on our journey.
By the end of 2017, 61% of Unilever's eggs were from cage-free systems and 74% of our milk was higher welfare sources. We strive to achieve our goal that 100% of our eggs, milk and meat come from higher welfare systems by 2024."
Xi Chun ling, Secretary-General and Vice President of the China Association for the Promotion of International Agricultural Cooperation, concluded that climate change, the growing population and demand for food, and animal husbandry are all bringing challenges to our natural resources and the ecological environment. The global consensus on farm animal welfare is calling us to work together to protect the earth and to achieve the goal of sustainable development.
China Awards celebrated in Paris
Earlier this year, 29 producers from China were recognised for the great work they are doing to improve the lives of pigs, hens and broiler chickens, at our June Awards ceremony in Paris.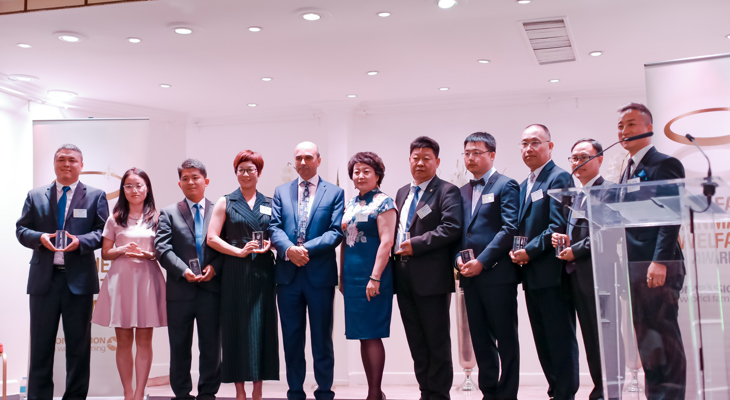 Award winners included farms and subsidiaries of several of China's leading food companies including Cargill Animal Protein (Anhui) Co., Ltd, Shandong Fengxiang Co., Ltd, Nantong Chai Tai Livestock & Poultry Co., Ltd., Yurun and Chuying Agro-Pastoral Group.
More than 180 million animals are set to benefit from ALL of this year's Chinese winners' commitments and practices.
Philip Lymbery, Compassion in World Farming's CEO said: "I applaud these companies for their leadership in farm animal welfare. They are playing an exemplary role for the entire food industry in China. Their investment in animal welfare from breeding, to housing, rearing and health management is sure to extend their social and economic influence as well as consumer confidence."
Many of the winners came to celebrate in Paris – watch the video here.