Published 04/03/2019
Today, Waitrose & Partners signed up to the European Chicken Commitment, as part of the retailer's continuous improvement plan for animal welfare.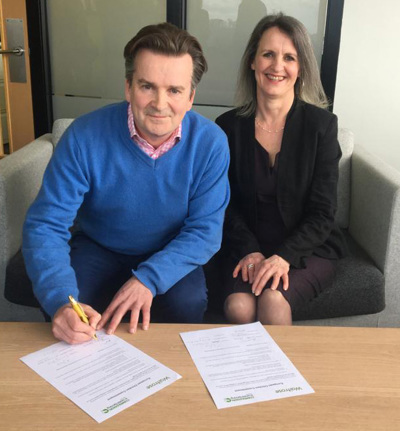 Waitrose & Partners has worked closely with its suppliers for a number of years to continually improve the living conditions and welfare performance of the chickens in their supply.  
They were one of the very first UK retailers to receive Compassion's inaugural Good Chicken Award back in 2010, and in collaboration with their long term poultry supplier and research partner Moy Park, they have added significantly to the science on the positive effects of natural light and a stimulating environment on chicken welfare.  
All own-brand fresh and frozen chicken at Waitrose & Partners currently provides the birds with more space to live (30kg/m2 stocking density), and a stimulating environment through the provision of natural light, perches and pecking substrates.  
Waitrose & Partners has recently turned its focus on breed, conducting trials with a view to moving to a more active, robust breed of chicken, as outlined in the European Chicken Commitment.
They join other leaders in the market (M&S, Unilever, Nestle, Danone and Elior Group) who have all made the same higher welfare pledge, to provide the birds with more space and enrichment, to use approved breeds with proven good welfare outcomes, and to introduce more humane slaughter methods.
Waitrose & Partners' commitment covers all their fresh and frozen chicken, and all chicken meat ingredients across the whole range of Waitrose own-brand products (excluding branded products).
Their commitment is set to benefit more than 43 million chickens each year.
Duncan Sinclair, Agriculture Manager at Waitrose & Partners, commented: "We have an unrivalled pedigree of good animal welfare practices and this is something our customers expect to help future proof our standards.
The majority of the standards outlined in this new commitment are already in place across our business, which puts us in a great starting position compared with many of our competitors.
We will now take the appropriate time needed to identify the best breeds to comply with these standards and will continue to deliver products that have been sourced responsibly and without compromising on taste."
Dr Tracey Jones, Director of Food Business at Compassion said: "Broiler chicken welfare is increasingly coming under the spotlight and we are delighted that Waitrose is joining the ranks of leading companies signed up to deliver better welfare.
Ensuring that all animal products have higher welfare origins is vitally important, not only to Compassion and Waitrose, but to Waitrose's customers too.
Developing humane, sustainable production systems that provide animals with a good quality of life requires time and effort, and for all stakeholders to be on board. We look forward to working with Waitrose to help them deliver on this commitment."
Waitrose & Partners Commercial Director, Rupert Thomas, added: "Along with our farmers and suppliers, we are committed to making mainstream the very best standards of farm animal welfare. We believe that compassionate farming and good business go hand in hand and that's why we are especially proud to add our name to the 2026 European Chicken Commitment Pledge.
We already have significant research under way in conjunction with our suppliers and leading academic bodies and we look forward to playing our part in improving the welfare of broiler chickens."
Waitrose has continually demonstrated its leadership in farm animal welfare. They currently hold 12 Good Farm Animal Welfare Awards, including no less than seven Retailer Awards, from Compassion.
Since 2014, the retailer has held a number 1 Tier ranking in the global Business Benchmark on Farm Animal Welfare for their higher welfare policies, practices and performance.
Find out more about Waitrose's awards here.