Published 24/09/2019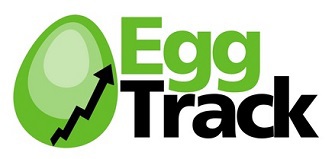 Compassion is delighted to announce the launch of its second European EggTrack report to show the progress companies are making towards meeting their 2025 cage-free egg commitments.
In recent years, we've witnessed a wave of companies making cage-free commitments which has promised to transform the future for laying hens.
EggTrack is designed to celebrate those commitments, hold companies accountable for ensuring year-on-year progress towards their cage-free goals, and stimulate a true market shift away from caged production.
This year's report presents data from 106 group-level companies featuring leading retailers, food service and out-of-home companies, manufacturers and producers, which have all been selected based on their size, the volumes of eggs they use, and their potential to impact the egg market.
EggTrack highlights the progress companies are making across not only shell or whole egg, but also their product and ingredient egg supply chains too, which are just as important but often forgotten when it comes to commitments and reporting.
All the companies highlighted in this report have made a commitment to sourcing only cage-free eggs by 2025 or sooner. The data was compiled based on publicly available information on company websites during August 2019.
Key findings
72% of companies are partially reporting progress against their commitments, i.e. reporting for at least one part of their egg supply chain, such as a particular brand, geography or type of egg.
42% of companies are reporting fully against all of their commitments.    
The retail sector leads on the average progress made against commitments with an end date of 2019 or later:

Retailers: 78% cage-free
Manufacturers: 67% cage-free
Food service: 54% cage-free

The closer the commitment end date, the greater the number of companies reporting progress and the more progress made towards meeting the cage-free commitments.
Of the commitments with 2025 end dates, 26% have been reported against, and an average 52% of eggs are now cage-free.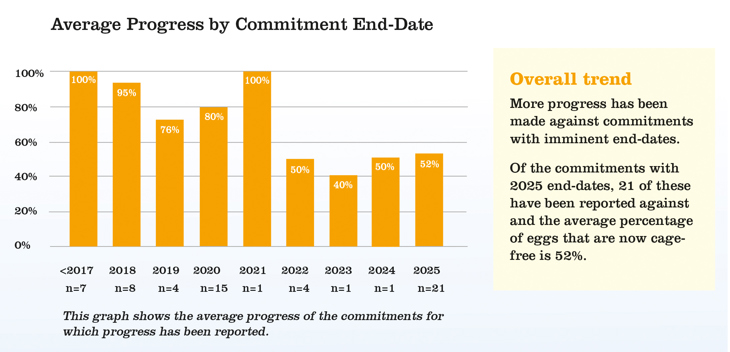 The breadth of companies now included in EggTrack clearly signifies that those yet to make cage-free commitments are seriously falling behind the curve.
Many companies that have made commitments have not only committed to cage-free eggs throughout their supply but have also prohibited the use of 'combination systems' and included all forms of egg in their commitments.
Looking forward
EggTrack will be published annually to report on progress up until the 2025 cage-free commitment target and Compassion urges companies to continue their public reporting as part of their corporate responsibility programmes by:
Providing clarity on the scope of their commitments and reporting progress on all commitments
Extending commitments to cover 'hidden' product and ingredient eggs
Working with their suppliers to ensure deadlines are met and a progressive transition to cage free production is achieved
Ensuring that they invest in the best alternative systems, which are fit for purpose (provide a good quality of life for hens) and future-proofed (i.e. acceptable for the lifetime of investment and can successfully address emerging issues such as operating with intact beaks).
By demonstrating the progress companies are making towards meeting their cage-free commitments, we hope to inspire other companies to follow their lead and give producers the confidence to invest in the best alternative systems which are not only fit for purpose (to give the hens a good quality of life) but fit for the future too - by investing in sustainable systems that meet the growing demand for cage-free eggs.
READ THE FULL EUROPEAN EGGTRACK REPORT HERE
US EggTrack Report
Compassion introduced its first US EggTrack report in 2017 and the latest 2019 report is available now - click here to read more.