Published 18/11/2019
Leading French retail chain, Casino Group, has stepped up its welfare commitments for broilers by signing up to the Better Chicken Commitment - a significant move that will benefit millions of chickens in France every year.
All Casino's retail outlets have pledged to meet the new higher welfare requirements across all their own label fresh, frozen and processed chicken (containing more than 50% chicken) by 2026.
Casino joins other leading retailers in France that have committed in recent months, including Monoprix, Intermarché et Netto, Auchan and Les Magasins U, which means that over 40% of the French retail market has now joined the move for better chicken.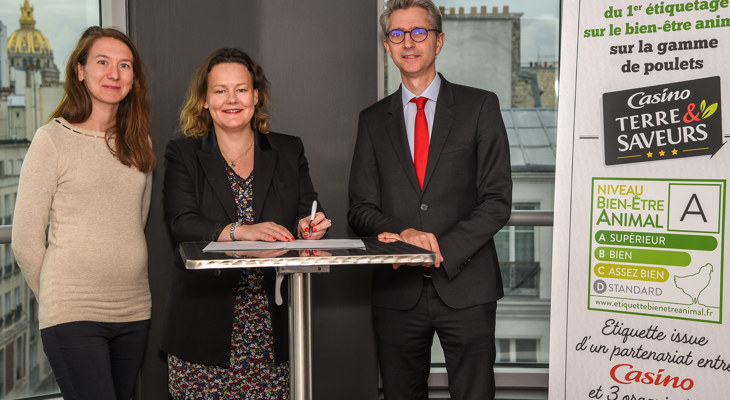 Claire Luquet, Director of the Casino brand, said: "Casino made an early commitment to improving animal welfare, firstly by pledging to stop selling eggs from caged systems by 2020, and then by co-creating a labelling scheme with three NGOs which assesses the level of chicken welfare. This latest commitment to offer only chicken products that have reached the Level C: "Fairly good" level of the labelling scheme by 2026, demonstrates our desire to offer ever more responsible products to our customers".
Casino to promote new welfare standards across chicken labels
Casino's Better Chicken Commitment follows the launch of the first animal welfare labelling scheme in France earlier this year, developed by Casino and three NGO's, including Compassion. The aim of the label is to provide consumers with simple, reliable and transparent information about the living conditions of the animals - from birth to slaughter.
Since its launch, more than one million Casino Terre & Saveurs branded chicken products have been labelled in store, and several other companies, including Fermiers de Loué and Fermiers du Sud-Ouest, have committed to join the scheme.
The welfare label has also been positively received by consumers - according to a study conducted by Casino in October:
90% of respondents stated they were interested in clear and reliable information on the animal welfare conditions of the chickens they consume
80% said labelling would encourage them to buy higher welfare products
68% would be willing to pay more for products that had been assured to higher welfare standards
As a result, Casino plans to extend the labelling scheme across all its own label fresh chicken and will ensure, as a minimum, the chicken will meet the Level "C - Fairly Good" standard, by 2026.
Level "C" is built on the requirements of the European Chicken Commitment, providing minimum guarantees for the welfare broilers throughout their lives such as: more space per chicken, slower growing breeds, perches, natural light and limited transport times.
Amélie Legrand, Senior Food Business Manager in France, added: "We were delighted to work with Casino on the development their animal welfare labelling scheme, which is a first in France. It provides much greater transparency about the conditions in which chickens are reared, transported and slaughtered and has already received a really positive response from consumers."
"Today, Casino is taking yet another significant step forward for animal welfare by joining the Better Chicken Commitment. This decision is the result of considerable work and we were proud to have supported them on this journey. We look forward to working with them over the next few years on the successful implementation of their commitment."