Published 06/02/2020
Compassion is delighted to announce that Carrefour France has, as of today, joined the European Chicken Commitment, which means that all its own label products containing more than 50% chicken will meet the Better Chicken criteria by 2026 at the latest.
In addition, Carrefour will also be providing full transparency to its customers by labelling its own label chicken according to the level of animal welfare and by method of production, starting from 18th February 2020.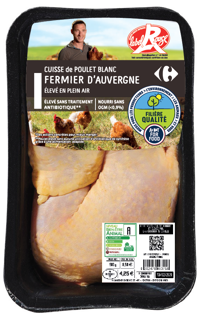 The labelling scheme developed by Casino in France along with Compassion and two other NGO's (LFDA, the OABA) was launched in December 2018 and is designed to provide consumers with clear and systematic information on the level of animal welfare and farming method on products.
Compassion applauds this dual commitment by Carrefour Group, with whom we are having constructive discussions on both the labelling and the evolution of its specifications towards the meeting the Better Chicken Commitment criteria.
In order to support its suppliers in this transition to a higher welfare supply, Carrefour will set in place a specific 3-year contract with them and will also offer them solutions to support the necessary investments (e.g. installation of perches or natural light).
Amélie Legrand, Senior Food Business Manager at CIWF France, said: "This announcement demonstrates the Carrefour Group's real ambition to change our production and consumption models in France. With these strong commitments, Carrefour is committed to transparency for its customers, to supporting its suppliers in this transition, and of course to better living conditions for the millions of chickens that the Group markets each year. »
Animal welfare labelling is gaining ground in France
French retailers Carrefour, Système U and leading poultry producer Galliance (Terrena poultry division), have now joined the French animal welfare labelling scheme 'Association Étiquette Bien-Être Animal (AEBEA)', which was created in 2018 by Compassion, the LFDA, the OABA and the Casino group.
The scheme now comprises of four animal protection NGOs (CIWF, LFDA, OABA, Welfarm), three retailers (the Casino group, the Carrefour group, Système U) and three poultry producers (Les Fermiers de Loué, Les Fermiers du Sud-Ouest, Galliance).
Over the last few months, the label has evolved and now presents additional information on method of production, illustrated by a pictogram (e.g. barn indoor or outdoor access). This simple information complements the level of animal welfare, which is still indicated by a letter, on a 5-level scale (from A to E).

The label is already being used in France on the 'Fermiers de Loué' and the 'Casino Terre & Saveurs' chicken and will be rolled out over the next few months on a growing number of other products, by several retailers.  This means that around 80 million chickens per year will come under the labelling scheme equating to around 10% of the total annual production of broiler chickens in France.
In addition, AEBEA will be working on a separate labelling grid for pigs from 2020 onwards, and then plans to expand the scheme across other farmed species moving forwards.