Published 06/08/2020
Following Nando's announcement last week, high street bakery chain Greggs is the latest to sign up to the Better Chicken Commitment – a significant pledge to further strengthen their animal welfare credentials.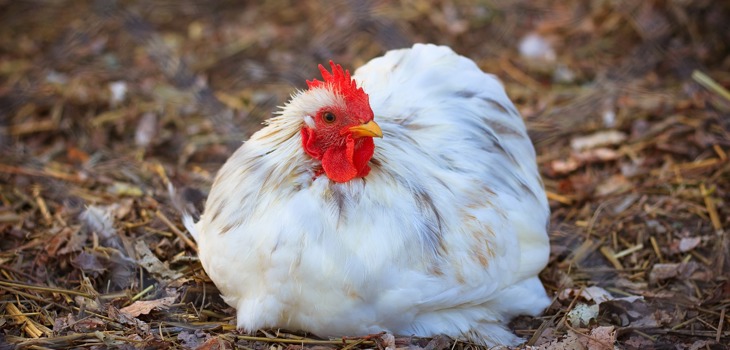 Greggs joins other leading companies who have also made the commitment, including KFC, YO! Sushi and more recently, Nando's and Pizza Express.
Their pledge will mean a significant improvement in the living conditions and slaughter practices for the chickens in their supply chain, with more space per bird, the presence of natural light, and what is becoming increasingly important for bird health and welfare, the use of slower growing breeds.
Compassion has been working closely with Greggs since 2014 on their animal welfare policies, which we have seen go from strength to strength – something which has been recognised in the Business Benchmark on Farm Animal Welfare (BBFAW) – an annual ranking of the world's largest food companies based on animal welfare policies, practices and performance.
In 2012, Greggs was ranked in Tier 5 of the Benchmark and has since worked hard to join those companies showing real leadership in their approach to animal welfare; Greggs are now comfortably placed in Tier 2 for the second year running, clearly demonstrating that animal welfare is integral to their business strategy.
In 2014, Greggs received a Good Egg Award from Compassion for their cage free policy on whole eggs and have since extended this commitment to their egg ingredients too.
This latest commitment, delayed because of the Covid crisis, is yet another example of Greggs' drive for continuous improvement and their desire to deliver food which consumers can trust and have confidence in.
Compassion's Director of Food Business, Dr Tracey Jones, said: "We congratulate Greggs for signing up to the Better Chicken Commitment. Their considered and thorough approach towards welfare in their supply chain and genuine ambition to make progressive improvement is applaudable.
"Over the last six years, we have witnessed the high level of work and commitment from Greggs to completely transform their animal welfare policy which has seen them establish a very strong position in the Business Benchmark on Farm Animal Welfare. We have been working with them closely on their commitment and look forward to our continued partnership to support the successful implementation of their broiler welfare strategy".