Published 25/08/2020
In July 2016, Tesco committed to stop sourcing shell eggs from caged systems by 2025. We are delighted to report that they are already close to meeting this target with 82% of shell eggs sold in 2019/20 coming from non-caged production.
Furthermore, Tesco has just extended their cage-free commitment to cover ingredient eggs as well. Their aim is to move their entire egg supply to alternative production methods such as barn, free range and organic systems on or before the commitment deadline.
Making cage free a reality
If we are to truly to get all UK hens out of cages, companies need to have cage free policies across not only shell eggs, but also the hidden egg used in processed and ingredient products. They also need to ensure that cage free systems are well designed to deliver the welfare benefits expected for laying hens.
To date, over 70 UK companies have publicly committed to stop sourcing eggs from caged systems by 2025. Compassion has been working closely with industry to ensure that producers converting out of cages ahead of the 2025 deadline move to free range, organic, or true aviary barn systems for the value egg market.
In 2019, Tesco was instrumental in helping develop a new higher welfare standard for barn egg production under the British Lion Quality Code of Practice, working with Compassion, the British Egg Industry Council and leading egg producer Noble Foods.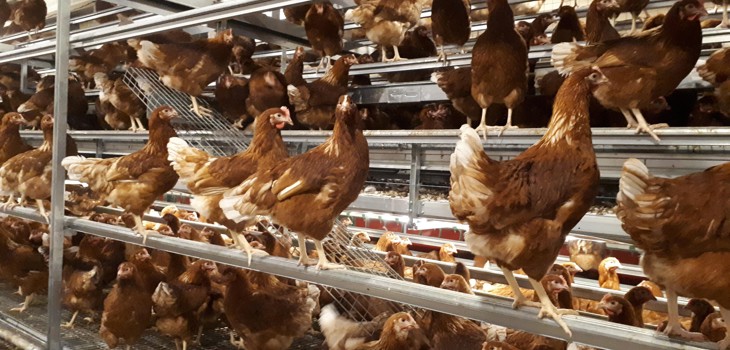 The new barn standard significantly improves on EU legislation that permits the use of high stocking densities and highly intensive systems such as Combi systems and is much higher than the KAT system commonly used across Europe. Watch the video to find out more about the higher welfare aviary barn system.
Compassion's Director of Food Business, Tracey Jones, said: "We are delighted that Tesco UK and One Stop have extended their cage-free commitment to cover ingredient eggs – a move which we hope will encourage the market to follow suit.
"Tesco's involvement in developing a new higher welfare standard for UK barn eggs has been invaluable. It not only gives producers the confidence to invest but will ensure that millions of hens will lead better lives in future.
"We now need the government to ensure that these higher welfare standards are protected post Brexit and to rule out any trade deals that accept low welfare imports."