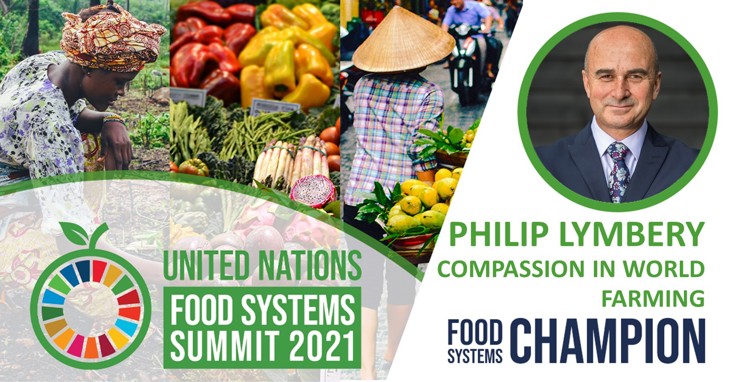 We are delighted to announce that our Global CEO, Philip Lymbery, has been appointed as a United Nations (UN) Food Systems Champion for the 2021 UN Food Systems Summit.
The 2021 UN Food Systems Summit, due to be held in September, will launch bold new actions to transform the way the world produces and consumes food.
Building a path to a better world
Philip's appointment to this role is hugely exciting and provides a critical opportunity to influence the much-needed shift in our global food system towards a more humane and regenerative future, whilst driving progress on the UN Sustainable Development Goals.
As part of the UN Food Systems Champion Network, Philip will work with others to inspire and facilitate coordinated action at the Summit, building a path to a better world.
Honoured and delighted
"I am deeply honoured to have been nominated by the UN Food Systems Summit to represent animal welfare organisations in Europe and beyond as a Food Systems Champion and I am truly delighted to accept," said Philip on accepting the role.
"It has never been so important for humanity, for animals and for all life on Earth to manage our food systems in a genuinely sustainable way. Rest assured of my passion and resolve to further the aims of the Summit, now and in the future, as we all seek to achieve the Sustainable Development Goals by 2030."