Aldi Nord and Aldi Süd have announced that, by 2030, they will have switched all their fresh pork, beef and poultry products to at least Level 3 of the 'Haltungsform' animal welfare labelling scheme, providing better standards for millions of animals in their supply chains.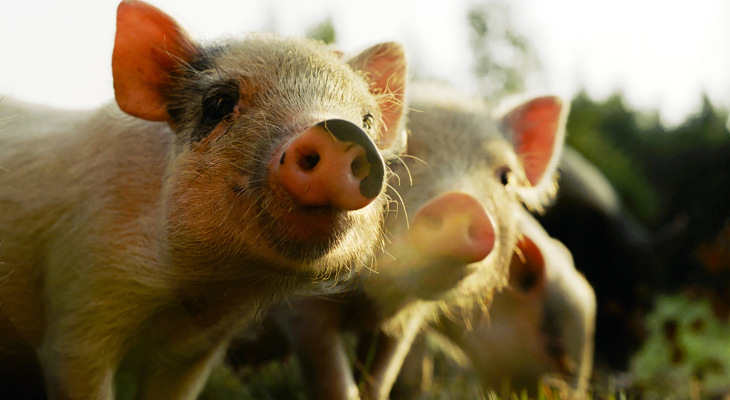 This move has prompted similar commitments in Germany from Rewe and Penny, and Kaufland and Lidl are moving their pork supply to Level 2 of the labelling scheme.
Welfare labelling in Germany
The 'Haltungsform' labelling scheme was introduced in Germany in 2019, and many retailers are using it to benchmark their welfare improvements.
 There are four levels:
L

evel 1:

meets basic animal welfare legislation for indoor production

Level 2:

animals are given a little more space and are provided with some environmental enrichment

Level 3: animals are given more space than Level 2, have a more varied environment and have access to an outdoor run or veranda
Level 4: animals are provided with even more space and access outdoors / free range and criteria corresponds to the legal requirements for EU organic meat  
Phasing in welfare improvement

s
German retailers are taking a phased approach to introducing the higher welfare standards, starting with phasing out all fresh meat products in Level 1. Aldi Nord and Aldi Süd are planning to do this by 2025, with the aim of having a third of their fresh meat supply falling into Levels 3 and 4 by 2026, and finally moving 100% to these levels by 2030.
Compassion's Director of Food Business, Dr Tracey Jones, said: "This has been a monumental month for farm animals with news from the European Commission announcing a ban on cages for farm animals by 2027, and German retailers making these latest welfare commitments under the Haltungsform labelling scheme."
"We applaud Aldi for putting farm animal welfare at the top of their agenda and for instigating a market shift across the German retail sector which will see vast improvements for millions of animals in future."
UK needs to follow progress in Europe
The UK has been known for its higher welfare standards for many years but are we starting to fall behind the curve? We are seeing little progress on some critical farm animal welfare issues such as stopping the use of farrowing crates, beak trimming of laying hens and the culling of day-old chicks – all initiatives that are moving forwards in Germany.
UK retailers are also significantly behind other countries when it comes to improving the welfare of broiler chickens. Only M&S and Waitrose have signed up to the Better Chicken Commitment (which includes providing the birds with more space and enrichment and using breeds with better welfare outcomes) compared to others across Europe:
In France, all the major supermarkets (99% of French retail market) have signed up to the Better Chicken Commitment
In Germany, many retailers have partial commitments - for example Aldi Nord and Aldi Süd have committed to introduce the BCC standards across all of their fresh supply by 2026.
In the Netherlands, the successful 'Plofkip' (translated as 'exploding chicken') campaign from Wakker Dier led to a huge shift in the retail sector towards higher welfare, slower grown chickens.
M&S are, however, leading the market on their transition with the roll-out of their BCC-compliant 'Oakham Gold' chicken across 100% of their fresh chicken by Autumn 2022, and their processed and ingredient chicken by 2026.
But if we are truly to move the market forwards and affect real change for chickens we need all retailers to make BCC standard chicken their new baseline for 100% of their supply – including fresh, processed and ingredient chicken - across all of their own label products.