Historic victory
Following the highly successful Compassion led European Citizen's Initiative to 'End the Cage Age' - collaborating with 170 NGO's and securing 1.4 million verified signatures – on 30th June, the European Commission made a historic landmark decision to end the use of caged systems in livestock production by 2027.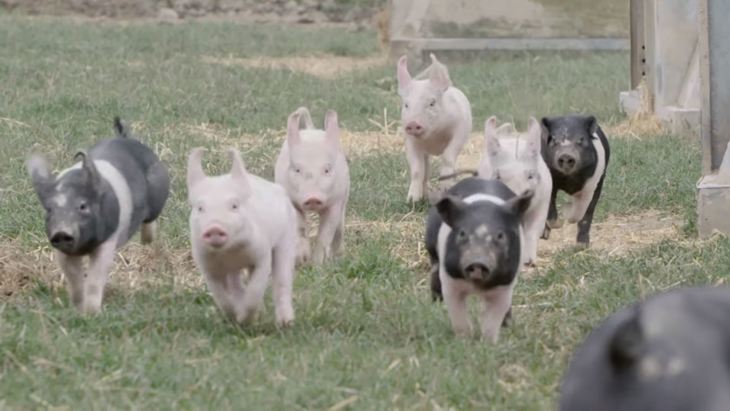 This important decision will benefit the lives of over 300 million laying hens, sows, calves, rabbits, ducks and geese, each year, who are currently kept in crowded cages, stalls and farrowing crates, or single pens, for part or the entirety of their lives.
A legislative proposal will be submitted by the end of 2023 which will need the approval of the European Parliament and the Council of Europe.
Compassion's Director of Food Business, Dr Tracey Jones said: "Compassion has been campaigning peacefully and lobbying Governments for over 50 years since the introduction of caged systems in livestock production. Today, we have a historic landmark decision by the European Commission, which will finally see the demise and elimination of caged systems from Europe. We are so proud and full of admiration for everyone who has made this happen."
There is also an assurance that farmers livelihoods will be a consideration in the socio-economic research, with funds being made available to producers when adopting a cage free future.  Find out more detail here.
The UK must follow suit
As a leader in animal welfare for many years, it is vital that UK follows suit with a similar ban on caged livestock production – trade with our biggest market depends on it, the British consumer demands it, and food companies are committed to it.
A cage-free future is possible and is already being enabled by some progressive companies that have started to phase out cages in their supply chains. With Brexit, however, the UK is in danger of rapidly falling behind the curve in Europe.
In order to eliminate ALL caged production, we need UK legislation to be in place to stop the import of products from caged systems and government action to support company commitments so that any future trade deals do not undermine our higher welfare standards.
Food companies lead the way
Compassion's Global EggTrack, which monitors the progress companies are making towards meeting their cage-free egg commitments, is about the enter its 2021 assessment phase.
Last year's report tracked the progress of 210 companies - 80 operate globally, 57 operate only in North America or the United States, and 73 operate only in Europe. Of those, 134 (63%) reported progress against their commitments.  Read more here.
Compassion is optimistic more progress will have been made since 2020, despite companies being held back by the global pandemic, as they react strongly to the preferred consumer choice of cage free eggs.
Louise Valducci, Head of Food Business (Europe) said: "Investing in cage free systems that are fit for future and that deliver the expected welfare gains is of paramount importance. Our Food Business team is on hand to provide guidance and to ensure any new systems match consumer expectations and do justice to the 1.6 million citizen who voted to End the Cage Age". 
Europe's egg production is more than 52% cage free thanks to the early commitments of Food Businesses, but there are still over 47% of the market yet to be addressed.  There are large production numbers in high producing countries that are still within enriched cages and the hidden egg ingredient within popular products still needs to be mapped out and converted to cage free systems.
Stop caged expansion into emerging markets
Compassion are currently advocating good aviary systems replace the unwanted enriched cage.  It is essential that we continue to work with companies to ensure their investments are led by science based good animal welfare systems rather than poor commercial systems which will not meet the consumers demand for a truly cage free future. Please read our laying hen booklet here.
Caroline Philpott-Saunders, Head of Food Business (Asia) said: "There is real and present danger of caged and combi-systems exploding into emerging markets such Africa, India and Indonesia as a way to increase supply quickly, particularly as these systems are made redundant in the EU. While grass roots lobbying of Governments and national food companies is underway to try and halt this progress, global food companies can and are playing their part, through the making, and timely implementation of global commitments."
There's still much to do to END the CAGE AGE for farm animals but for now, let's celebrate this historic decision and the freeing from confinement of the millions of farm animals in our European food supply each year!