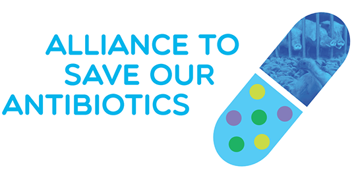 Today (18th November), to mark the start of World Antimicrobial Awareness Week, the Alliance to Save Our Antibiotics, has launched a new report: Resistance and Responsibility: Antibiotic Use in Supermarket Supply Chains
The report reveals that whilst the UK's ten leading supermarkets – Aldi, Asda, Co-op, Iceland, Lidl, Morrisons, M&S, Sainsbury's, Tesco and Waitrose – each have a policy aimed at ending routine preventative antibiotic use in their supply chains, the majority of them only apply these policies to some, or all of their own-brand products.
This means that much of their frozen produce, ready meals, ingredients and branded products have no restrictions on antibiotic use, other than minimum legal standards.
In addition, there are concerns that some imported food may be produced using antibiotics as growth promoters - a practice that has been banned in the UK for 15 years, and yet it does not apply to imported food.
Suzi Shingler, of the Alliance, said: "Supermarkets have a responsibility to ensure that all meat, dairy and eggs they sell is produced without misusing antibiotics and comes from farms with good husbandry. As the UK is seeking to reach new trade deals with non-EU countries, it is more important than ever to have the same standards for imported and British produce."
Key findings of the report
All ten leading UK supermarkets now have publicly available farm antibiotic policies that include a ban on most or all of their UK own-brand suppliers from using antibiotics for routine disease prevention.  





M&S has the most comprehensive antibiotic policies, followed by Waitrose. 





M&S and Iceland are the only supermarkets that apply their antibiotic policies to ALL their suppliers of animal-derived foods. 





The antibiotic policies of Co-op, Iceland, M&S, Sainsbury's and Waitrose apply to all their own-brand supply chains, including fresh, frozen, processed and imported produce. 





ASDA, Aldi, Lidl, Morrisons and Tesco have policies that do not clearly cover all their own-brand produce. These policies often cover only UK-sourced own-brand fresh produce, such as raw meat, fresh milk and fresh eggs and do not explicitly include animal-derived ingredients in own-brand ready meals and processed food or imported food.  





M&S, Tesco and Waitrose are the only supermarkets to publish comprehensive, up-to-date data on the total antibiotic use in their food supply chains.





M&S and Morrisons are the only supermarkets that have banned the use of colistin, a last-resort antibiotic used to treat seriously ill people. Sainsbury's and Waitrose suppliers also say they have not used colistin in recent years, although no ban is included in their policy.
Antibiotic resistance
Antibiotic resistance caused by the overuse of these medicines in livestock and humans is increasing and has led to the emergence of so called 'superbugs'. It threatens to undermine medical procedures such as hip replacements, cancer chemotherapy, organ transplants and the treatment of preterm babies.
It is predicted that if the world doesn't radically change how antibiotics are used, by 2050 antimicrobial resistance will kill more people than cancer does today. 
TV's Dr Chris Van Tulleken, an infectious diseases doctor and MRC Clinical Research Fellow at University College London Hospital said: "We need to get antibiotic misuse out of the food chain as it is contributing to the global crisis of antibiotic resistance. If we no longer have reliable, effective antibiotics, we will see a lot more deaths due to infection. This will even affect young people, including children." 
Responsible use of antibiotics
Compassion's Antibiotic Stewardship Programme (ASP) aims to help companies adopt a roadmap for responsible antibiotic use which can eliminate or robustly regulate the use of antimicrobials in their supply chain. An effective ASP will:
reduce the unnecessary use of antibiotics
eliminate/robustly regulate the use of human critical antibiotics
help prevent the development of antibiotic resistance
By operating a higher welfare system - underpinned by good management and good welfare - any company with animals in its supply chain can reduce or totally remove its reliance on antibiotics.
Read more here or contact us for more information.
Closing the gap
More supermarkets have now prohibited their own-brand suppliers from using antibiotics for routine disease prevention and several supermarkets have increased the level of detail in their policies.
However, there is still a lack of data on actual antibiotic use being published and still virtually no information on usage by farming system. M&S has published some data showing that its free range chickens have no antibiotic use, and its higher-welfare indoor chickens have much lower use than its standard chickens.
Supermarkets need to ensure that the standards they set apply equally to imported and branded food. This is particularly important now that the UK government is seeking to reach new trade deals with non-EU countries which often have weaker regulations governing farm antibiotic use.
Read the full report here and find out more about the Alliance here.