Today (16th March) sees the launch of the tenth annual Business Benchmark on Farm Animal Welfare (BBFAW).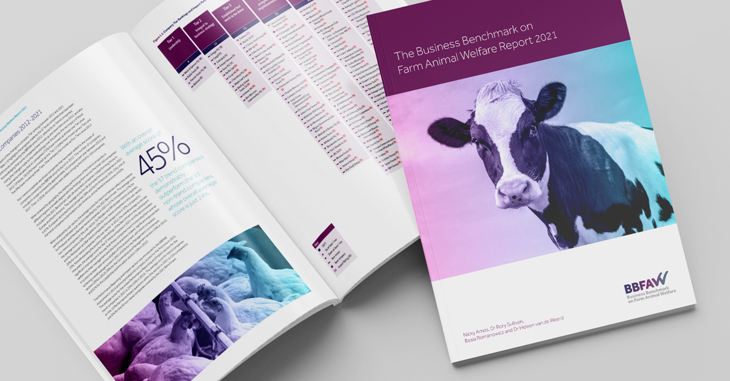 10 years of progress
The BBFAW - supported by founding partner Compassion in World Farming and supporting partner FOUR PAWS - provides an annual review of how the world's leading food companies are managing and reporting their farm animal welfare policies, practices and performance.
Over the past 10 years, companies have made significant progress – of the 150 companies covered by the Benchmark:
134 companies (89%) now acknowledge farm animal welfare as a business issue (compared to 71% of the 68 companies evaluated in 2012),
122 companies (81%) have formal policies on farm animal welfare (compared to 46% of companies in 2012)
119 companies (79%) have published formal objectives and targets for animal welfare (compared to just 26% of companies in 2012).
Driving change through BBFAW
Over the span of the BBFAW's lifetime, Compassion's engagement with food companies evaluated in the annual benchmark has enabled key partners to excel. We have worked closely with 86 of the 150 companies assessed, supporting them with policy development, welfare improvement and transparent reporting.
Of those 86 companies, 7 have risen 3 tiers, 22 have risen 2 tiers and one company in particular - Premier Foods - has progressed an impressive four tiers in recent years, moving into Tier 1 this year. Their journey is testimony to their commitment to improving animal welfare, using the BBFAW as a framework for their development and ensuring their policies and practices drive clear, measurable change with public reporting. 
The top tier companies in the latest Benchmark include Marks and Spencer, Waitrose, Noble Foods and Premier Foods, which is impressive given the changes to the 2021 methodology which has placed further emphasis on companies' performance reporting and impact (45% of the total score compared to 35% in 2020).
Read the full report below.