The EU was urged to 'get behind' cultivated meat with favourable legislation, funding and promotion at Europe's first symposium on this new technology in Brussels yesterday (25th April).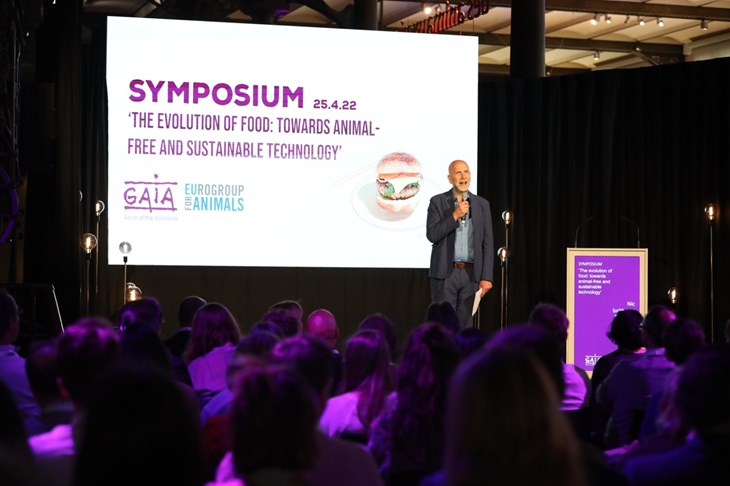 Key speakers at this ground-breaking event, held at the Museum of Natural Science, included our patron and celebrated environmentalist Dr Jane Goodall who explained to the audience of more than 200 scientists, policy makers and industry representatives why she feels the development of cultivated meat is so important.
Intensive farming must be phased out
She said: "It's been wonderful to see that the movement advocating cruelty-free food has been growing quite fast in the last few decades. And it's exciting that this movement is growing fast in the EU.
"Cultivation of proteins has advanced a whole lot in the last decade or so and the resulting products are so like the meat from butchered animals that it's much easier for meat eaters to be satisfied by these alternatives.
"It's pretty clear that intensive industrial farming needs to be phased out – especially factory farms…and I believe that the speakers at this symposium will shed much light on how this is increasingly possible with humane alternatives."
Exploring ways to help the planet
Dr Goodall was joined by a range of speakers, including Compassion's Global Chief Executive Philip Lymbery, who explored the ways in which cultivated, or cell-cultured, meat can help save the planet, improve human health, and protect animal welfare.
Cultivated meat is real meat made from animal cells which can be taken humanely and without causing harm. It means that animals don't need to suffer the cruelty of confinement in factory farms. And as the meat is produced in a sterile environment, the risk of infectious diseases and need for antibiotics is greatly reduced.
Cultivated meat is becoming increasingly popular as a growing number of consumers recognise the monumental impact factory farming has on the environment, and the suffering it causes to farm animals.
The event, called The Evolution of Food: Towards Animal Free and Sustainable Technology, was hosted by Gaia and Eurogroup for Animals, of which Philip is President.
The Benefits and Challenges
Scientists and industry representatives then discussed key issues around cultivated meat, including the current technology, the benefits and challenges for people and planet, and consumer perception of cultivated meat.
Philip Lymbery closed the event with an impassioned speech. He said:"With time running out to save our planet, now is the time for us to look forward with both our head and our heart; combining intellect with compassion.
"When it comes to food, cultured meat gives us the opportunity to bring intellect and compassion together in the shape of a new way of producing protein without the cruelty and environmental degradation associated with meat from factory farmed animals.
"Now is the time for the European Commission, Parliamentarians and EU Member State governments to get behind this new technology with favourable legislation, public funding for research and development, and strong promotion to ensure that cultured meat can reach its potential as a game changer in creating a truly sustainable and compassionate food system for all our sakes."
Find out more about cultivated meat and the benefits to people, planet, and animals.