EFSA (European Food Safety Authority) has recently released its scientific opinion on the welfare of ducks, geese and quail on farm. This report is the latest among a series of EFSA scientific opinions published, including on Pigs, Broilers, Laying Hens and Calves, in support of the ongoing revision of the European Union's animal welfare legislation carried out in the framework of the European Commission's Farm to Fork strategy.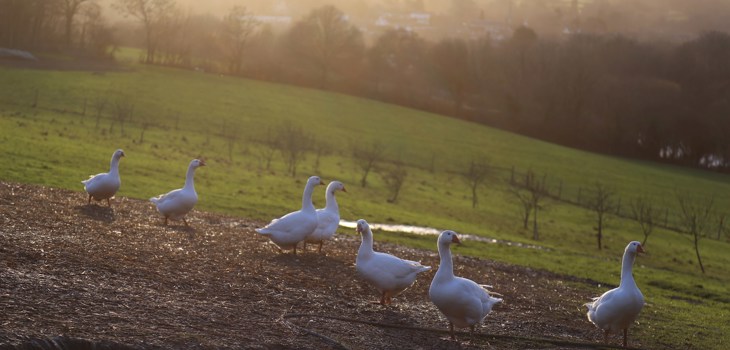 The 'Welfare of ducks, geese and quail on farm' released on the 29th of March 2023, presents a comprehensive overview of the latest scientific findings on the welfare of ducks, geese and quail kept in the most common husbandry systems in the EU.
This report evaluates in particular the impact of cage systems on those species, in response to the European Citizen Initiative (ECI) 'End the Cage Age' which calls on the EU to prohibit the use of cages for all farmed species, including ducks, geese and quail. There is currently no specific EU legislation for the protection of ducks, geese and quail and this EFSA scientific opinion - the very first one assessing the welfare of those species, will be used to fill that void by providing a scientific basis for future legislative proposals.
The publication covers the general welfare of Domestic ducks, Muscovy ducks and their hybrids (Mule ducks), Domestic geese and Japanese quail, and assessed husbandry systems for breeders and for birds kept for meat, foie gras and egg production.
Regrettably, the practices of live plucking and force-feeding for foie gras production were not included in this mandate, despite their severe consequences on birds' welfare.
Overview of Production Systems in the EU
This scientific opinion provided a detailed overview of the main husbandry systems currently used in the EU for ducks, geese and quail across different stages of production:
Pedigree duck breeders and male Muscovy ducks for the production of Mule ducks are mainly housed in individual cages.
Quail breeders, layer quail during commercial egg production and Mule ducks during the overfeeding phase for foie gras production are housed in collective cages (including couple cages for quail breeders).
Other breeder categories and meat birds are kept in indoor floor systems (with or without outdoor access), and may be given outdoor access depending on the age. Indoor floor systems and outdoor systems are the most common housing systems for meat and foie gras production during the starting and growing phases.
Mule ducks and Domestic geese can be kept in indoor pen systems (elevated or not) during the overfeeding phase during foie gras production.
Main Welfare Hazards Identified
This scientific opinion identified and assessed six welfare consequences for ducks, geese and quail, taking into account their species-specific characteristics:
Restriction of movement

Injuries

Group stress

Inability to perform comfort behaviour

Inability to perform exploratory or foraging behaviour

Inability to express maternal behaviour (related to prelaying and nesting behaviours)
Relevant hazards leading to these welfare consequences in different husbandry systems were identified, and animal-based measures (ABMs) that can be used to assess the presence or absence of each welfare consequence were suggested.
Restriction of movement, group stress, inability to perform comfort behaviour, injuries (bone lesions, soft tissue lesions and integument damage), locomotory disorder, inability to perform exploratory or foraging behaviour and inability to perform prelaying and nesting behaviour were the welfare consequences considered more relevant:
for breeders of ducks and quail kept in cages than in indoor floor systems

for Muscovy and Mule ducks housed in elevated collective cages and elevated indoor pen systems than in indoor floor pen systems, during the overfeeding phase for foie gras production

for layer quail housed in collective cages than in indoor floor systems

for all species under consideration, during the starting and growing periods, in indoor floor systems without outdoor access than in indoor floor systems with outdoor access and in outdoor systems.
Report Recommendations
Recommendations on how to prevent the negative welfare consequences listed above were provided, in particular in relation to the following factors:
Space allowance per bird

Size of the group

Floor quality

Availability, design and size of nesting facilities

Enrichment provision (including access to water)
EFSA's main recommendations are as follows:
Cages (individual, couple or collective) and the systems currently used during the overfeeding phase for foie gras production should be avoided as they lead to a high risk of occurrence of the welfare consequences considered in this report.

More space (three dimensional) should be provided to allow species-specific behaviour,

including water bathing.

To prevent isolation stress, birds should not be kept individually. The group size of immature or female birds of all species should be a minimum of two. Adequate sex ratio should be considered when a mature male bird is present.

Solid and littered floors

with dry and friable litter material should be provided for indoor systems. In waterfowl (ducks and geese), floor areas under and around water sources should ensure sufficient drainage (e.g. perforated floor).
Soft and manipulable nesting material should be provided to encourage nesting behaviour for all birds. An enclosed nest with opaque top, sides and back should be provided for ducks. A floor level nest is preferred for Domestic ducks, Domestic geese and Japanese quail. Birds kept in groups should have access to individual nests to allow for non-competitive use of nests.

Open water sources

should be provided for ducks and geese to allow at least head dipping and preferably full body contact and bathing. Drinking water should be provided separately.
For all birds, forage-related enrichment such as silage (waterfowl) or pecking blocks (quail) should be provided.
Easily reachable elevated structures such as perches are recommended for Muscovy ducks.
Fine material such as sand should be provided to quails for dust bathing, as well as structures allowing for resting under cover.

A covered veranda

is recommended for all species when outdoor access is not possible.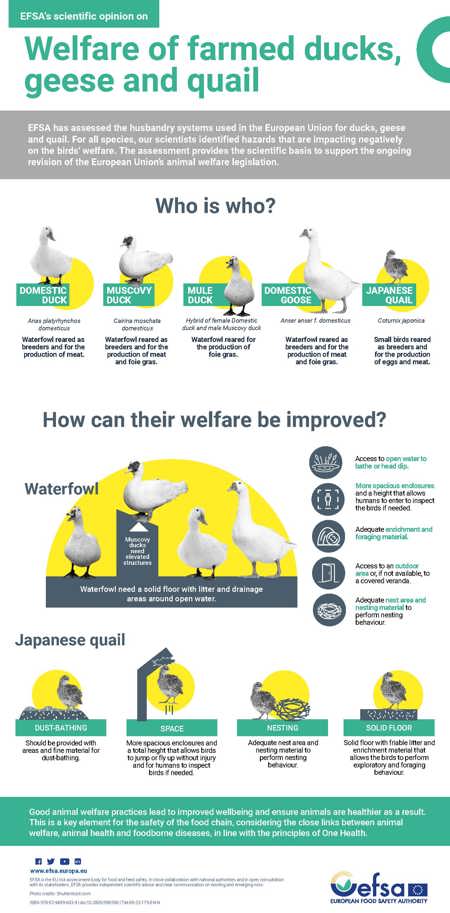 Following the highly successful Compassion led European Citizen's Initiative to 'End the Cage Age' - collaborating with 170 NGO's and securing 1.4 million verified signatures – on 30th June, the European Commission made a historic landmark decision to end the use of caged systems for all species by 2027. This latest EFSA Opinion offers a strong scientific basis for this forthcoming ban on cages for ducks, geese and quail.