At our recent Cage Free Forum in Warsaw Compassion was delighted to present the first Good Egg Award in the Polish retail sector to Carrefour Polska.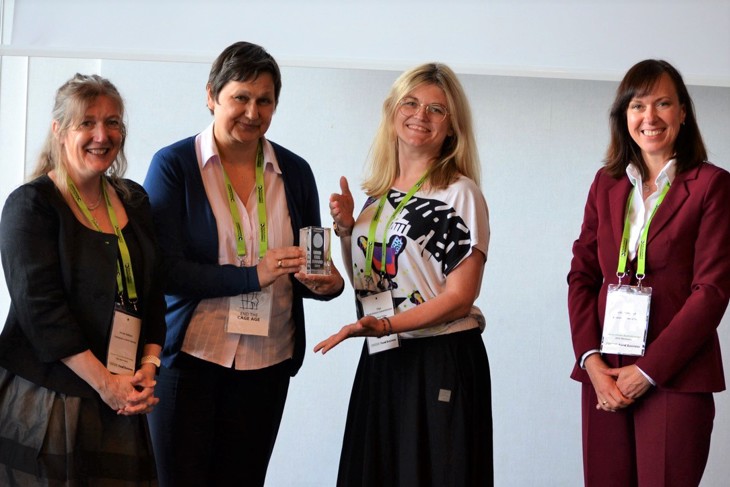 Good Egg Award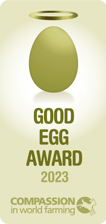 Since 2007, the Good Egg Award has celebrated companies that use or have committed (within five years) to implement 100% cage-free eggs in their supply chain or as producers.
To date, more than 105 million laying hens are reared in better welfare conditions thanks to the higher welfare policies of our award winners.
Carrefour Polska supports cage-free production
Carrefour Polska received the Good Egg Award in recognition of the work they have done to meet the award criteria which bans the use of combi systems.
Carrefour Polska has also showed its official support for the planned EU ban on the rearing of laying hens in cages, as a result of Compassion's European Citizens' Initiative to End The Cage Age.
Striving to be the leader on food transformation in Poland, Carrefour has implemented many responsible practices in the field of animal welfare. The company has committed to phase out cage eggs completely by 2025 and has not offered them under its own brand for four years.
Each year, Carrefour Polska transparently publishes its progress on the implementation of not only cage-free fresh eggs, but also its own-brand products (pasta, mayonnaise, cookies) – a vital step towards the complete withdrawal of eggs from caged systems.
This year, the company also made the commitment to exclude combi systems - that allow the temporary confinement of laying hens - from its supply chain.
Carrefour's commitment to cage-free production is welcomed by Compassion and we hope they provide a good example for others to following on cage-free production in Poland.
Barbara Kowalska, Director of the CSR and Quality Department at Carrefour Polska said: "Carrefour has been involved in promoting responsible animal welfare for many years as part of its food transformation strategy. We have signed up to the European Chicken Commitment, a European initiative aimed at improving the welfare of meat chickens, and have committed to completely withdraw all cage eggs from our stores by 2025. Indeed all our own label products have been cage-free for four years now.
"The Good Egg Award is an incentive for us to continue to improve our practices and introduce further innovations. It is also confirmation of our leading position in the retail sector in Poland in terms of sustainable production and responsibility towards animals."
Carrefour's own brand "Quality of Nature" has been created in cooperation with Polish farmers who run farms in accordance with the principles of sustainable agriculture. The products of this brand, such as trout, free-range eggs, honey, butter and cottage cheese, are all measured for their animal welfare attributes, which is an important element of their quality.
Lidia Krawczyk, Food Business Manager Poland & Central Europe at Compassion said: "Carrefour Polska is a great example of a company that consistently works for better welfare and transparently communicates about its activities, which is valuable for consumers and for the entire industry. In this way, Carrefour motivates other retail chains and manufacturers to take steps in the same direction.
"We hope that this first Good Egg Award for a Polish retailer will act as an incentive for other companies to follow their lead. We greatly appreciate the cooperation and commitment of Carrefour Polska and thank them for their efforts to improve the welfare of farm animals. We encourage more companies to take up challenge in this area and I hope to present many more awards in Poland in the future."
Find out more about why cage-free systems for laying hens are so important here.