Today on World Cage Free Day (Friday 13 October), world renowned conservationist and our Patron, Dr Jane Goodall, has joined citizens and NGOs in urging the European Union to stop the suffering and end the cage age.
Two years ago, the European Commission committed to banning cages for the 300 million farmed animals who are confined in cages, pens or stalls, often unable to move at all or express any natural behaviours. Yet the Commission has so far failed to publish proposals for the ban as promised.
Only one of four promised proposals on animal welfare
European Commission's Executive Vice-President (EVP) Maroš Šefčovič, nominated to oversee the Green Deal, has confirmed that the European Commission intends to deliver the proposal on the protection of animals during transport by December 2023. Yet, he failed to provide clarity on the timeline for the other three regulations, namely Kept Animals, Slaughter and Labelling.
Delivering only one of the four proposals will not meet the millions of citizens' demands for better animal welfare. The commitment to ban cages was made in response to the End the Cage Age European Citizens Initiative (ECI) signed by more than 1.4 million citizens as part of a campaign involving 170 NGOs which Compassion initiated and coordinated.
In her video message to President von der Leyen, renowned ethologist and conservationist, UN Messenger of Peace and founder of the Jane Goodall Institute, Dr Jane Goodall, PhD, DBE, said: "Every year 300 million sentient animals are caged, confined in industrial farms across the EU. These factory farming systems are outdated, they cause immense suffering to millions of animals, all of whom are able to feel frustration, fear and pain… I was really upset when the European Commission President Ursula von der Leyen didn't commit to the reforms in her State of the Union speech."
MEPs ignoring citizens' wishes
A new analysis of MEPs' votes on farmed animal welfare reveals a clear disconnect between what citizens ask for and how MEPs vote.
While eight out of ten Europeans believe that the welfare of farmed animals should be better protected, this is not reflected by the elected representatives of the European citizens. Out of the 10,265 individual votes analysed, only four out of ten votes were for higher welfare for farmed animals.
Keeping up the pressure
Earlier this week, Compassion joined a number of other organisations and citizens to rally outside the EU Commission building in Brussels demanding the EU publishes its full proposals for revised animal welfare legislation, including the promised ban on cages.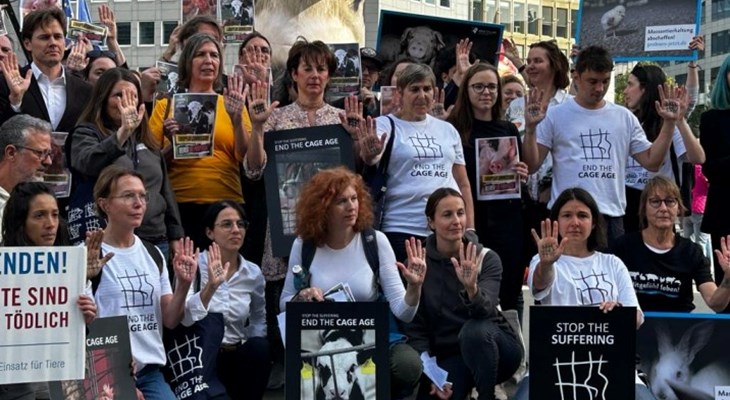 Company support for a cage-free future
While the European Commission continues to be unclear on its animal welfare legislation, we need companies to continue to support a cage-free future.
In March 2021, 10 leading companies co-signed a public letter to the European Commission supporting the End the Cage Age ECI, and this year more have added their voice in support of the proposed new EU Animal Welfare legislation which includes a ban on cages.
Our latest EggTrack report highlights companies progressing in this space with 75% of the 232 companies tracked reporting progress against their cage-free commitments for laying hens. 
Global Director of Food Business, Tracey Jones concludes: "Cages are outdated and unwanted by consumers. A mass movement to cage free across the globe has been supported by hundreds of food companies through their public commitments and transition progress.
"We urge companies to lend their voice in support of a cage-free future by writing to the European Commission President and continuing with their own journey to cage-free ."