Colruyt Group outlines progress on its Better Chicken Commitment
Published 03/11/2023
Colruyt Group was the first retailer in Belgium to make the Better Chicken Commitment (BCC) in August 2021, committing to comply with the criteria for its chickens sold in butchery and frozen food sections by 2026 – and has just published a press release outlining its progress to date.
COLRUYT'S COMMITMENT IN FIGURES
As part of its commitment to the BCC, Colruyt set up its own dedicated supply chain involving 17 Walloon farmers and is now marketing its range of "welfare" chicken that is 100% BCC-compliant.
It's BCC-compliant chicken products have increased from 3 in 2022, to 24 in 2023, representing 50% of the total chicken sold in the meat section of Colruyt supermarkets.
In terms of sales volumes, "welfare" chicken (or BCC chicken) represents 38% of the volumes sold in the Colruyt butcher's department.
ENABLING CONSUMER CHOICE THROUGH LABELLING
Colruyt's "welfare" chicken can easily be identified by its new 'Poulet bien être' label, and the retailer has announced that it will be carrying out a range of further marketing activities to promote these products in the coming weeks.
POSITIVE IMPACT OF THE TRANSITION TO BCC
Colruyt has highlighted some interesting results from its transition to the BCC:
Combined with the innovative 'NestBorn' technique (hatching of chicks on the farm), the BCC rearing conditions have significantly improved chicken welfare and health and have allowed for a reduction in antibiotic use (89% of batches did not use antibiotics).
Collaboration with all players in the supply chain (feed suppliers, hatcheries, farmers, slaughterhouses) has enabled everyone to broaden their knowledge and gain a better understanding of the behaviour of slower growing chickens.
Partner farmers are satisfied with this new rearing concept and report that their working environment is more pleasant.
Consumer behaviour is evolving positively in favour of better chicken welfare, and selling prices remain affordable.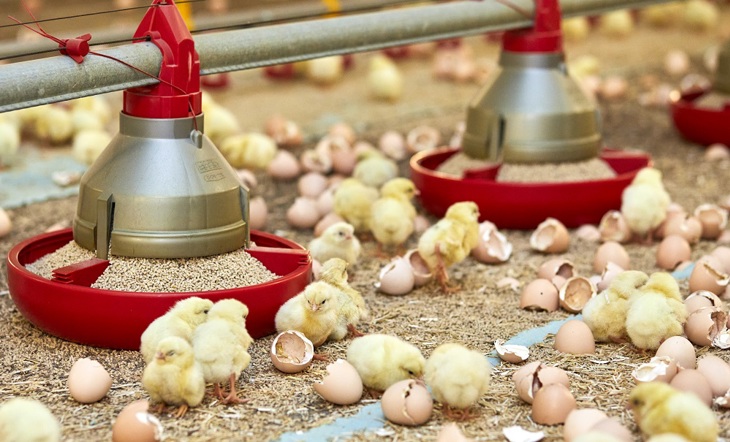 While these initial conclusions are promising, the Colruyt Group is appealing to the wider retail sector, encouraging others to adopt the BCC to enable market transition to higher welfare chicken and increase the pace of transition across the industry.
Compassion fully supports Colruyt and encourages all retailers to sign up to the BCC to improve chicken welfare by making higher welfare their baseline offer.