Today (16 November), we celebrated our first ever in person Good Farm Animal Welfare Awards ceremony in Bangkok, celebrating the achievements of food companies across Asia that are making strides towards improved animal welfare in their supply chains.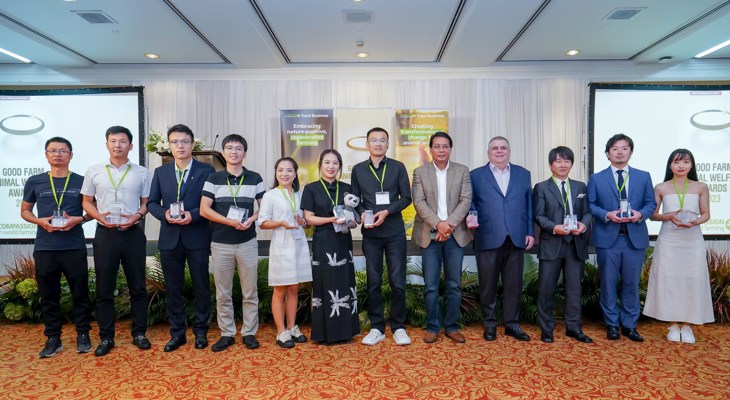 In total, 19 awards were presented across three countries: Thailand, Japan and China. The majority, (16 awards) focussed on cage-free eggs and higher welfare broiler production, and together these alone are set to benefit the lives of over 25 million animals. The three additional trophies were presented to our 2022 Good Pig Production Award winners from China.
Overall, there was one Good Chicken Award presented to a Thai company, a first for the country.  Eight companies (three Japanese and five Chinese) earned Good Egg Awards, while six Good Chicken Production Awards, one Good Egg Production Award, and three Good Pig Production Awards were presented to companies from China.
Fostering Collaboration for Better Chicken Welfare
The Awards ceremony was preceded by the inaugural meeting of Compassion's recently formed Thai Broiler Producer Working Group which brought together key stakeholders to discuss the importance of meeting the higher welfare requirements of the Better Chicken Commitment (BCC).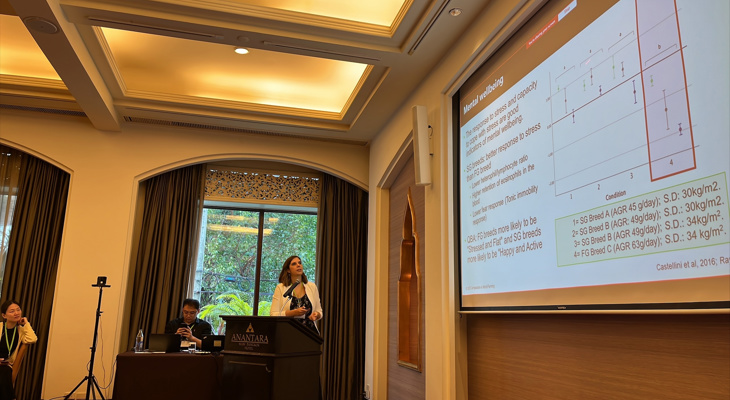 Thailand is a major supplier of chicken meat for European food businesses, many of whom have committed to the BCC and are therefore reliant on Thai producers to supply higher welfare chicken. It was important to connect with producers on the ground that can help deliver BCC compliance.
First Good Chicken Award in Thailand
Klong Phai Farm, was the first Thai-based company to receive a Good Chicken Award. Acknowledging its dedication to animal welfare and product quality, the company sources free-range chicken and pays its farmers more than the usual market rates. These practices not only support the farming community but also promote ethical and sustainable farming methods.
Laurent Opportune, Managing Director for Klong Phai Farm said: "Receiving this award is a testament to our unwavering commitment to the well-being of animals and the sustainability of our practices. We believe that true success in our industry is measured by the positive impact we make, and this award reaffirms our mission to provide exceptional quality while upholding the highest standards of animal welfare. This recognition inspires us to continue pushing boundaries and setting new standards for the betterment of our environment and the animals we care for."
Celebrating cage-free eggs in Japan
One of this year's Japanese Good Egg Award winners, Second Arrow Co., Ltd. and its Toritama Restaurant brand, primarily manages dining establishments and recognises higher animal welfare as a means to providing tastier ingredients.
Representative Director and President of Second Arrow, Nobuhiro Osuga, said: "We are extremely honoured to receive such a prestigious award. Second Arrow Corporation was founded with the goal of creating value and happiness for everyone involved, changing the norms of Japan's food and beverage industry. The 'Toritama' brand, which has been recognised with this award, specialises in chicken and egg dishes that cannot be replicated at home. We are also developing specialist stores in this cuisine and will continue to expand our outlets working in cooperation with our producers striving to spread the sale of cage-free eggs, as well as promote animal welfare to the best of our abilities."
The other two Japanese companies to receive Good Egg Awards included Nagomi Tamago by Miyamoto Poultry Farm and Fuku-ga-kita by Asagiri Takarayama Farm, a subsidiary of Marufuku Co., Ltd.
Continued progress in China
Compassion's awards programme in China began in 2014, working with the International Cooperation Committee of Animal Welfare (ICCAW) when they first introduced the Good Pig Production Awards, followed by the Good Egg and Good Chicken Production Awards.
These awards reflect the efforts made in the breeding, housing, rearing and health management of the animals and are based on criteria that equate to stars, with five stars being the highest number achievable. 
This year there were six Good Chicken Production Awards, one Good Egg Production Award and three Good Pig Production Awards. 
Good Chicken Production Award winners included three five-star winners (Hangzhou Yiyuanjia Agricultural Development Co Ltd, Taihe Yifang Pure Land Agriculture, and Forestry Co, and Sichuan Xinde Agriculture Co Ltd), two achieved four stars (Taihe Aoxin Silky Chicken Development Co Ltd and Hainan (Tan Niu) Wenchang Chicken Co Ltd), and one gained three stars (Fujian Chia Tai Food Co Ltd).
Good Egg Production Award winner, Sichuan Xinde Agriculture Co Ltd earned a five-star rating, just as it did for its Good Chicken Production Award.
Of the three Good Pig Production Award winners, one earned a five-star rating (Thunder Pig Chessboard Village Base), and two were given a two-star rating (SiFangHong (Pinggu) Welfare Farm of Breeding Pigs and Yongshou Project of Xianyang CP Food Co Ltd, CP Group).
Five Chinese companies were recognised for embracing cage-free egg production:
Beijing Kaicheng Agriculture Co Ltd
Taihe Aoxin Silky Chicken Development Co Ltd
Shanghai Song Dan Xia Network Co Ltd, Anhui
Xiansen Green Food Co Ltd
Shaoguan Tudama Agricultural Development Co Ltd.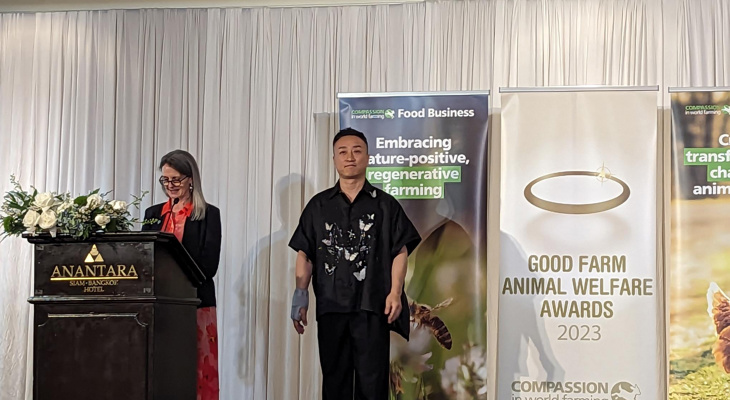 Dr Tracey Jones, Global Director for Food Business at Compassion in World Farming said: "It's been tremendous having the inaugural in-person meeting of our Thai Broiler Producer Working Group and Asia Awards ceremony, celebrating the expansion of our programme in the region.
"It's been vital for us to connect with Thai producers to discuss how they can meet higher welfare requirements of the Better Chicken Commitment, particularly for their export market which will enable European companies to fulfil their own BCC commitments.
"The scope and range of the awards presented, not least our very first Thai Good Chicken Award, shows how enthusiasm for higher welfare is spreading across the region in key countries like Japan and Thailand, and it's wonderful to see continued progress in China. Congratulations to all our award winners."
Discover more about this year's Good Farm Animal Award Winners.