Published 30/01/2020
A new report by the Alliance to Save Our Antibiotics has found that six retailers – the Co-op, Lidl, M&S, Sainsbury's, Tesco and Waitrose – now have bans on their suppliers using antibiotics routinely for disease prevention, with Morrisons having a partial ban on their use.
Waitrose had the most comprehensive antibiotic policies, followed by M&S and Tesco. In contrast, Aldi, Asda and Iceland have no restrictions on the routine use of antibiotics in their meat, dairy and egg supply chains, and Iceland was found to be the only major chain to have no publicly available policies on antibiotic use. However, none of the 10 supermarkets surveyed have published full information on antibiotics use.
The continued misuse of antibiotics in supermarket supply chains is occurring despite calls from the United Nations and the World Health Organization to end the overuse of antibiotics in farming [1][2].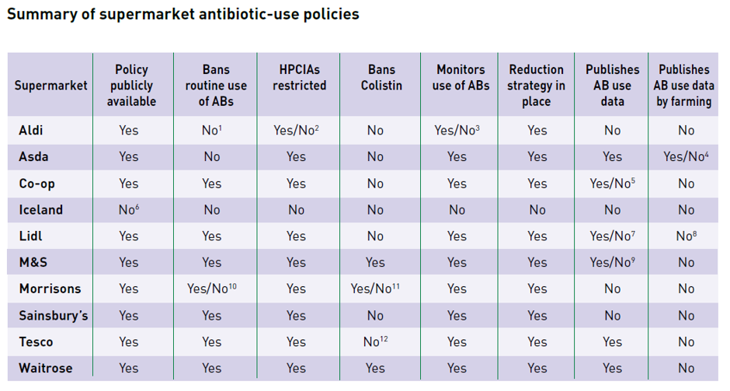 The ten supermarkets covered by the Alliance assessment were: Aldi, Asda, Coop, Iceland, Lidl, M&S, Morrissons, Sainsburys, Tesco and Waitrose.
Cóilín Nunan, Scientific Adviser of the Alliance, said: "We know that certain practices in farming are linked with higher levels of stress and of antibiotic use, such as keeping large numbers of animals in cramped conditions indoors, weaning piglets when they are too young or using very fast-growing breeds of chickens. If supermarkets are really committed to reducing farm antibiotic use, they should publish antibiotic data viewed by farming system, as this would help all farmers to learn from best practice."
Evidence shows that the overuse of antibiotics in farm animals contributes to bacteria becoming resistant to the medicines used to tackle them. This has led to the emergence of so called 'superbugs'.
Supermarkets are also often failing to introduce strong enough restrictions on the use of the most important antibiotics. Colistin is an antibiotic used in human medicine as a last-resort for treating highly antibiotic-resistant and life-threatening infections.
Many scientists believe there should be a total ban on colistin use in farming due to its importance in treating humans. Unfortunately, M&S and Waitrose are the only supermarkets which explicitly prohibit their suppliers from using colistin.
Summary of key assessment findings:
Waitrose tops the report for giving customers the most information on their antibiotics policies. Iceland came last, with no publicly available information.
Aldi, Asda and Iceland were the only supermarkets that do not restrict their suppliers from using antibiotics routinely.
Co-op, Lidl, M&S, Sainsburys, Tesco and Waitrose prohibit routine antibiotic use, whereas Morrisons has a ban for some species and not for others.
Only M&S and Waitrose explicitly ban the use of the last-resort antibiotic colistin.
None of the ten supermarkets have published good farm antibiotic use data viewed by farming system, such as intensive production, free-range, pasture-fed or organic, even though many supermarkets are in possession of some of this information.
A YouGov survey found that 87% of the general public thought that supermarkets should have to publish antibiotic-use data they possess.
Stop using antibiotics in healthy animals to prevent the spread of antibiotic resistance, https://www.who.int/news-room/detail/07-11-2017-stop-using-antibiotics-in-healthy-animals-to-prevent-the-spread-of-antibiotic-resistance
No Time to Wait: Securing the future from drug-resistant infections, https://www.who.int/antimicrobial-resistance/interagency-coordination-group/final-report/en/
ANTIBIOTIC STEWARDSHIP
Compassion has developed an Antibiotic Stewardship Programme (ASP) urging companies to adopt a roadmap for responsible antibiotic use, with the aim of eliminating or robustly regulating the use of antimicrobials.
By operating a higher welfare system - underpinned by good management and good welfare - any company with animals in its supply chain can reduce or totally remove its reliance on antibiotics.
Read our guidance on how to develop an effective Antibiotic Stewardship Programme (ASP) here.