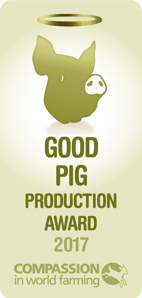 The Good Pig Production Award recognises Chinese producers that are making significant commitments to improving the welfare of pigs by meeting five basic requirements which focus on: group housing of sows in the gestation period, providing pigs with a suitable environment (including temperature control and hygiene), as well as meeting several stipulated food safety requirements.
The awards are scored from 1 (basic requirements met) to 5 Stars, depending on the number of additional welfare criteria met, either as a current policy or commitment within five years. These criteria include: no tail docking, no teeth clipping, no confinement of sows throughout life (including farrowing crates), and the provision of manipulable material and bedding throughout life.

ICCAW and Compassion worked together on the eligibility and criteria for the Good Pig Production Award. Read more here.
Find out more about the Good Pig Production Award winners here.